There are so many amazing books I want to read, but I managed to narrow my TBR down to my top 5. I tried to mix it up with ARCs and new releases, all of which I've been dying to read!
Last month, I got to one book from my TBR, but hopefully this month I'll do better. I've already started King of Scars, so maybe this momentum will continue throughout the month.
Read more to hear about each of these amazing-sounding books!
King of Scars (Nikolai Duology #1) by Leigh Bardugo
"Nikolai Lantsov has always had a gift for the impossible. No one knows what he endured in his country's bloody civil war—and he intends to keep it that way. Now, as enemies gather at his weakened borders, the young king must find a way to refill Ravka's coffers, forge new alliances, and stop a rising threat to the once-great Grisha Army." (Goodreads)
So I've already started this book and it's killing me. I'm dying. Send help.
The Storm Crow (The Storm Crow #1) by Kalyn Josephson
Princess Anthia has been suffering from depression ever since the Illucian empire invaded her kingdom, destroying everything, including their magical crows. When her sister makes a deal, arranging a marriage between Thia and the crown prince of Illucia, and Thia discovers a Crow egg, they devise a plan to take back what they lost. (Content Warning: Depression)
Wicked Saints ARC (Something Dark and Holy #1) by Emily A. Duncan
"A girl who can speak to gods must save her people without destroying herself. A prince in danger must decide who to trust. A boy with a monstrous secret waits in the wings. Together, they must assassinate the king and stop the war." (Goodreads).
This was on both my January and December TBR, and I still haven't got to it. However, that will change! February will be the month! I will read this book!

On The Come Up by Angie Thomas
Bri dreams of being a famous rapper, and to leave her neighborhood. When her mom loses her job and bills begin to pile up, Bri's hope to make it big turns into a need.
Angie Thomas' first novel, The Hate U Give, absolutely blew me away. I can't wait to see what she does in her next book!



The Blood Spell (Ravenspire #4) by C. J. Redwine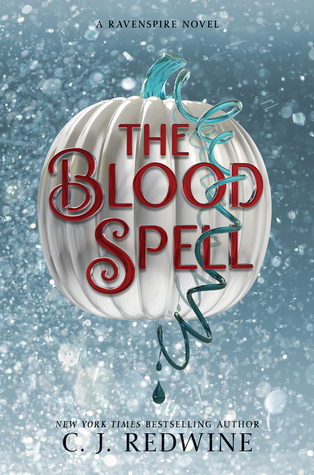 "When mysterious forces lead to disappearances throughout Balavata, Blue and [Prince Kellan] must work together to find the truth. What they discover will lead them to the darkest reaches of the kingdom, and to the most painful moments of their pasts. When romance is forbidden and evil is rising, can Blue save those she loves, even if it costs her everything?" (Goodreads)
C. J. Redwine is one of my favorite authors. Every one of her books captures my heart. I can't wait to read the next installment in her Ravenspire series. If you haven't picked up her Ravenspire series yet, one: please read it, and two: you don't need to read it in order! Each book can be read as a standalone!
What are you most excited to read this month?
– Last Month's TBR –
– Last Month's Wrap Up – 
– This Month's Most Anticipated Releases –