[ Edit (12/2020): This review was first published years ago. My thoughts on this series have changed since then. I still enjoy the series, but the problems in it can't be ignored and must be discussed. I can't reread it right now and completely rewrite this review (although I did adjust my star ratings to better reflect my thoughts on it now), but I think it's important to point out the lack of diversity and harmful representation in this series as a whole. One day I will reread this and change this review to reflect all of these issues. Until then, I wanted to add this disclaimer. ]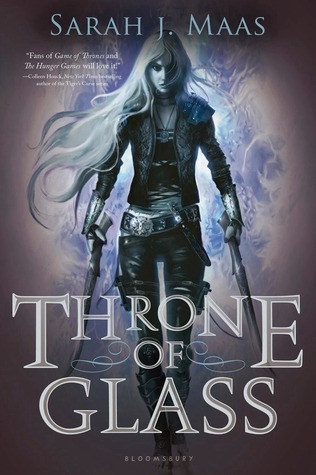 Throne of Glass is one of my all-time favorite book, and with the last book coming out in just a couple of months, I want to review each installment in this epic series.
Overall: 4/5 Stars
Characters: 3/5
Setting: 5/5
Writing: 5/5
Plot and Themes: 5/5
Awesomeness Factor: 2/5
Review In A Nutshell: Throne of Glass is an amazing, feminist fantasy that is sure to keep you on the edge of your seat with epic action, fascinating mystery, and great characters!
"'You could rattle the stars,' she whispered. 'You could do anything, if only you dared. And deep down, you know it, too. That's what scares you most.'"