This Review Will Contain *Mild* Spoilers for The Cruel Prince and The Wicked King, but there will be NO SPOILERS for The Queen of Nothing.
Overall: 5/5 Stars
Characters: 5/5
Setting: 5/5
Writing: 5/5
Plot and Themes: 5/5
Awesomeness Factor: 5/5
Review in a Nutshell: Listen, I'm trash for this series. The Queen of Nothing had a lot to live up to, but it did. It reminded me why this series is so hyped, it proved it deserves every bit of it.
"Let me be feared and never again afraid."
// Content Warning: Violence, Death, Assault, Child Abuse/Neglect, War Themes, Murder //
Release Date: 11/19/2019
Publisher: Little, Brown Books for Young Readers
Page Count: 309
Premise:
The Wicked King left off with the worst possible cliffhanger ending, with a plot twist I never saw coming. The Queen of Nothing takes place not too long after that ending- Jude has created a life for herself in the mortal world after being exiled, doing odd jobs for other Folk and living with Vivi and Oak. When her sister Taryn returns from Elfhame with shocking news, Jude must delve back into the world of courtly politics and war to help her, even if it means facing the man who betrayed her, the High King Cardan Greenbriar.
"Two paths are before me, but only one leads to victory."
Read more for all of my thoughts on the conclusion to The Folk of the Air series!!
[ Related: The Wicked King by Holly Black (ARC Review) ]
"We have lived in our armor for so long, you and I. And now I am not sure if either of us knows how to remove it."
Writing & Setting
Holly Black's writing style is just amazing. Her writing perfectly balancing poignancy and thought-provoking topics with fun quips and just amazingly relatable moments. Jude is of both the mortal world and the magical world- being a mortal raised in Elfhame- and you can get that feeling just through Holly Black's writing. It feels both otherworldly and magical while being full of purely human aspects.
Meanwhile, the setting really makes this series stand out. Holly Black truly is the queen of the Fae. She has crafted a beautifully intricate world parallel to ours, with such great depth and detail, and grounded in fascinating mythology and history. While The Queen of Nothing doesn't expand on the world and magic quite as much as previous books have, it really does place a spotlight on it.
"Magic is seldom so convenient as to conform to our preferences."
Plot
I won't lie- some of this book feels a little rushed. That's honestly a complaint I have with the series as a whole. Each book could be much longer than they are. The Queen of Nothing comes in at just barely over 300 pages, and it has a lot to wrap up. That said, it does succeed. While I did wish we could have a little more time to sit with some moments, the fast pace did make this book very bingeable and absolutely impossible to put down.
This book also has a few twists thrown in, but they definitely weren't quite as surprising as the twists in previous books. There was maybe one that really took me by surprise, but the rest were fairly predictable if you are highly invested with this series and as obsessed as I am. That said, this book is still a great conclusion. It ties up loose ends really well, but it definitely wasn't as… surprising as I expected. I don't know how else to say it without spoilers. It just didn't end in a way I thought the series would end.
"If you're looking for reasons why he disappointed you, by all accounts, Prince Cardan was a disappointment from the beginning."
mood.
Characters
The characters are where The Folk of the Air series really does shine. Every aspect of this series is fantastic, don't get me wrong, but it's the characters that add the heart and brutality to the series. Jude is such a strong and interesting protagonist. This book puts her through a lot, and we see sides of her that were hinted at in previous books fully explored. I reread the first two books in preparation for this one and damn, her growth is astonishing. Also, Cardan. I love Cardan so much. He's a drunk idiot sometimes, but other times, he is just plain incredible. We definitely see that incredible side of him a lot in this book. It's truly amazing for a character to be so understood by the reader while also still being able to surprise them.
However, I don't want to go too much into Cardan right now because, well, spoilers. Let's talk about some of our other characters- Vivi and Heather are my loves and I would love an entire book just about them. Taryn didn't really leave that much of an impression on me in this book beyond the first fifty pages, but she definitely made a mark in those pages. And finally, Madoc. Madoc is such a captivating character- I always think I have him pinned down but then he does something to completely change my perspective of him. This book continues to reveal sides of him I both expected yet didn't and I absolutely loved it.
"I know how to drive a knife through my own hand. I know how to hate and be hated. And I know how to win the day, provided I am willing to sacrifice everything good in me for it."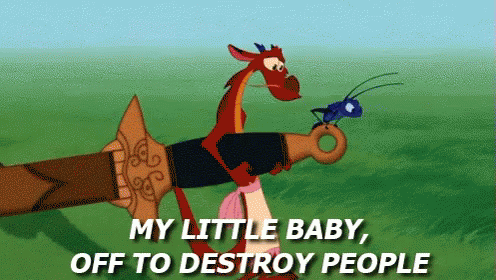 [ Related: The Cruel Prince by Holly Black (ARC Review) ]
Conclusion
Pros- Great characters, solid conclusion, I love this world
Cons- A little rushed. I'm also just bitter that this series is over. What am I supposed to obsess over now???
Overall- 5/5 stars.
This book series will forever have a hold on my heart, and The Queen of Nothing reminded me of every reason why. This book is a fantastic conclusion to a series I'll love for the rest of my life.
"Let me have everything I ever wanted, everything I ever dreamed, and eternal misery along with it. Let me live on with an ice shard through my" heart.
If You Liked The Queen of Nothing, I'd Recommend:
Have you read The Queen of Nothing yet? What did you think?
Also, what are your thoughts on the cover? After reading, I get all the symbolism, but I'm still not really a fan of it (especially the Barnes and Noble edition- oh god please don't make me look at it).
Add To Your Goodreads Shelf
Purchase From: Amazon, Barnes and Noble, Indiebound
Follow Me: [Bookstagram] [Twitter] [Tumblr] [Goodreads]

Bonus! More Quotes That I Love
"'Mortals are fragile,' I say.
'Not you,' he says in a way that sounds a little like a lament. 'You never break.'"

"By you, I am forever undone."

"It really is a magical word: no. You say whatever bullshit you want and I just say no."

"I think of his riddle. How do people like us take off our armor?
One piece at a time."

"My sweet nemesis, how glad I am that you returned."

"That boy is your weakness."

"All power is cursed. The most terrible among us will do anything to get it, and those who'd wield power best don't want it thrust upon them. But that doesn't mean they can avoid their responsibilities forever."

"There is no banquet too abundant for a starving man."

"Imagine if, in the mortal world, a lawyer passed the bar by killing another lawyer."

"'I tried to kill you,' she reminds me.
'You've described pretty much every important relationship in my life.'"