Sorry this review is a little later than I had hoped. I had some family stuff happen (don't worry- all super good things!) and I got very very distracted. That said, while I'm still a bit distracted, I can't let anything get in the way of me talking about Jennifer L. Armentrout books, so let's get started!
Release Date: June 11th, 2019
Publisher: Inkyard Press
Page Count: 512 Pages
Overall Rating: 4/5 Stars
Characters: 4/5
Setting: 4/5
Writing: 5/5
Plot and Themes: 4.5/5
Awesomeness Factor: 4/5
Review in a Nutshell: Storm and Fury is a fun spin-off, and while nothing can compare to the original series, it definitely holds its own as a great read.
"I'm guessing the sky is full of stars?"
"It is, but the only ones that matter are the ones you see."
Read more for all of my thoughts on this book!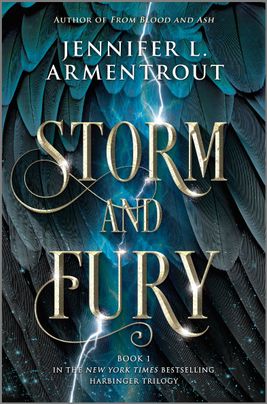 // Content Warning: Violence, Death, Assault, Torture (Mention), Sexual Assault (Attempt), Murder, Disability //
"Nothing is impossible," I reminded him. "I'm living proof of that." 
Premise:
Storm and Fury follows Trinity Marrow, who has been isolated in a Warden compound for years, with only her Protector, Misha, and her father figures, Matthew and Thierry, knowing the truth about her past and what she is. However, with another Warden clan visiting to seek help, and demon attacks on the compound endangering the people Trinity cares about, she must team up Zayne, one of the visiting Wardens, to save her family.
[ Related: The Dark Elements Series by Jennifer L. Armentrout – Cliche But Addictive (Review) ]
Writing
Jennifer L. Armentrout's writing is just uniquely wonderful. It's full of references, strange and quirky one-liners, and lots of entertaining banter. Her books are perfect for when you've finished and deep and dark fantasy and need something to lighten your mood and just make you smile. Despite the lightheartedness, she also managed to have depth and heart in all of her characters, and handle the serious situations with as much skill as she does the hilarious ones. 
Plot
I've read a lot of Jennifer L. Armentrout books. They're kind of my addiction. One thing I've noticed is that while there are some similarities throughout, she always managed to surprise me. Storm and Fury is no exception. I would keep thinking I knew what was going to happen, and yeah, maybe a few times I was right, but when it counted? I was always taken back by what actually happened. There are some fun twists thrown into this story, in addition to the adorable romance and epic action. Another thing I've learned about Jennifer L. Armentrout books, that definitely applies to this one, is that they are just un-putdownable. Is that a word? Probably not. Either way, the second I got invested in this book, it was almost impossible to put it down. 
Characters
The first thing I need to say before anything else- I was 100% Team Roth and anti-Zayne in the Dark Elements series, so Jennifer L. Armentrout had a tough task ahead of her to make me finally see Zayne as a love interest. That said, she still succeeded. Yeah, he's no Roth, and definitely not on the same level as other love interests of hers (*cough* Daemon *cough*), but I really found myself rooting for this relationship. Mostly, I think it's because it felt a lot more realistic, and kinda healthier than her usual ones (this is not me saying anything bad about her usual main relationships, by the way, because I love them all to death). I'm still not in love with Zayne as a character (he's just a little too boring for me), but that's most likely because I am very, very biased.
However, I really love Trinity as a character! She's a really fascinating protagonist, and her character arc over the course of this book was amazing! Also, disability rep!!! Trinity has retinitis pigmentosa, a disease Jennifer has herself, and I just really love that she used this book to bring attention to it.
Outside of our main characters, there are also a few cameos from familiar faces that I absolutely loved and totally made my day. Just had to mention that.
"Greed for power knows no discrimination, no boundaries."
[ Related: The Darkest Star by Jennifer L. Armentrout (Review) ]
Conclusion
Pros- Cute, funny, great disability rep
Cons- Zayne isnt my favorite, I'm sorry 
Overall- 4/5 stars. 
Storm and Fury is utterly addictive. You won't be able to put down this adorable and hilarious read.

Have you read Storm and Fury? What did you think? Also, what's your favorite Jennifer L. Armentrout book?
Add To Your Goodreads Shelf
Purchase Options
Follow Me: [Bookstagram] [Twitter] [Tumblr] [Goodreads]