This year is absolutely flying by. I can't believe it's April already! This month has some of my most anticipated releases of the year, with a good mix of debut novels, series starters, and continuations! My wallet may hate me this month, but I'll be very happy once all these books come out.
---
April Releases
Note: These are in order of release date
April 2nd
10. Wicked Saints (Something Dark and Holy #1) by Emily A. Duncan
This book is probably my most anticipated debut novel, if not one of my most anticipated books overall for 2019. Wicked Saints has gotten a lot of hype, and after reading the ARC, I can say it deserves all of it. This book broke me, in the best possible way, and I don't think I'll ever be over it. Read my review here for more of my ranting.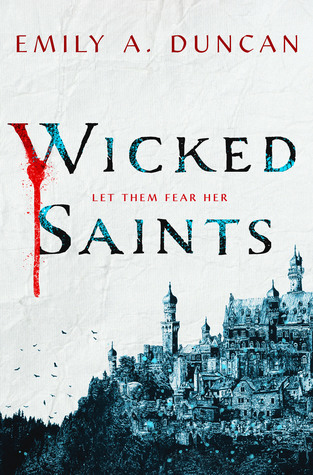 "A girl who can speak to gods must save her people without destroying herself.
A prince in danger must decide who to trust.
A boy with a monstrous secret waits in the wings.
Together, they must assassinate the king and stop the war.
In a centuries-long war where beauty and brutality meet, their three paths entwine in a shadowy world of spilled blood and mysterious saints, where a forbidden romance threatens to tip the scales between dark and light."

Goodreads
9. Defy Me (Shatter Me #5) by Tahereh Mafi
The Shatter Me series has been one of my favorites since I first read it as a trilogy back in 2015. While I was nervous at first about the series being continued, I am now 100% on board and so excited for the next installment! The Kenji novella, Shadow Me, really got my hyped for this book!
(Spoilers below for the Shatter Me series, books 1 – 4)
"Juliette's short tenure as the supreme commander of North America has been an utter disaster. When the children of the other world leaders show up on her doorstep, she wants nothing more than to turn to Warner for support and guidance. But he shatters her heart when he reveals that he's been keeping secrets about her family and her identity from her—secrets that change everything.
Juliette is devastated, and the darkness that's always dwelled within her threatens to consume her. An explosive encounter with unexpected visitors might be enough to push her over the edge."

Goodreads
8. Defy the Fates (Constellation #3) by Claudia Gray
I cannot express how excited I am for this book. I loved the first two novels, and I've been dying to find out how it all ends! If you're looking for a new sci-fi series, definitely pick this one up!!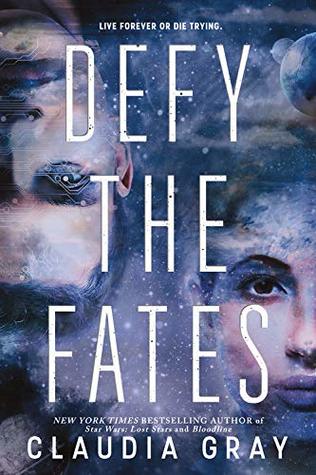 (spoilers below for Defy the Stars and Defy the Worlds)

"Hunted and desperate.
Abel only has one mission left that matters: save the life of Noemi Vidal. To do that, he not only has to escape the Genesis authorities, he also must face the one person in the galaxy who still has the means to destroy him. Burton Mansfield's consciousness lives on, desperate for a home, and Abel's own body is his last bargaining chip.
Alone in the universe.
Brought back from the brink of death, Noemi Vidal finds Abel has not only saved her life, but he's made her into something else, something more. Not quite mech, yet not quite human any longer, Noemi must find her place in a universe where she is utterly unique, all while trying to create a world where anyone–even a mech–can be free.
The final battle between Earth and the colony planets is here, and there's no lengths to which Earth won't go to preserve its domination over all humanity. But together, the universe's most advanced mech and its first human-mech hybrid might have the power to change the galaxy for good."


Goodreads
This is the new companion novel to Geekerella. The first book was absolutely amazing, and I can't wait to see where Ashley Poston goes with this one!
"Imogen Lovelace is an ordinary fangirl on an impossible mission: save her favorite character, Princess Amara, from being killed off from her favorite franchise, Starfield. The problem is, Jessica Stone—the actress who plays Princess Amara—wants nothing more than to leave the intense scrutiny of the fandom behind. If this year's ExcelsiCon isn't her last, she'll consider her career derailed.
When a case of mistaken identity throws look-a-likes Imogen and Jess together, they quickly become enemies. But when the script for the Starfield sequel leaks, and all signs point to Jess, she and Imogen must trade places to find the person responsible. That's easier said than done when the girls step into each other's shoes and discover new romantic possibilities, as well as the other side of intense fandom. As these "princesses" race to find the script-leaker, they must rescue themselves from their own expectations, and redefine what it means to live happily ever after. "

Goodreads

6. The Devouring Gray (The Devouring Gray #1) by Christine Lynn Herman
This book is one of my most anticipated debut novels of the year. People have been comparing it to the The Raven Cycle, one of my all-time favorite series, so obviously I need to devour it. (Yes, I know that was a bad pun)
"On the edge of town a beast haunts the woods, trapped in the Gray, its bonds loosening…
Uprooted from the city, Violet Saunders doesn't have much hope of fitting in at her new school in Four Paths, a town almost buried in the woodlands of rural New York. The fact that she's descended from one of the town's founders doesn't help much, either—her new neighbors treat her with distant respect, and something very like fear. When she meets Justin, May, Isaac, and Harper, all children of founder families, and sees the otherworldly destruction they can wreak, she starts to wonder if the townsfolk are right to be afraid.
When bodies start to appear in the woods, the locals become downright hostile. Can the teenagers solve the mystery of Four Paths, and their own part in it, before another calamity strikes?"

Goodreads
I was lucky enough to read an ARC of this back in January, and it blew me away. It was so much more than I expected. This is definitely not a book to miss!
"Annie Mathers is America's sweetheart and heir to a country music legacy full of all the things her Gran warned her about. Superstar Clay Coolidge is most definitely going to end up one of those things.
But unfortunately for Clay, if he can't convince Annie to join his summer tour, his music label is going to drop him. That's what happens when your bad boy image turns into bad boy reality. Annie has been avoiding the spotlight after her parents' tragic death, except on her skyrocketing YouTube channel. Clay's label wants to land Annie, and Clay has to make it happen.
Swayed by Clay's undeniable charm and good looks, Annie and her band agree to join the tour. From the start fans want them to be more than just tour mates, and Annie and Clay can't help but wonder if the fans are right. But if there's one part of fame Annie wants nothing to do with, it's a high-profile relationship. She had a front row seat to her parents' volatile marriage and isn't interested in repeating history. If only she could convince her heart that Clay, with his painful past and head over heels inducing tenor, isn't worth the risk. "

Goodreads
April 9th
This book has been called a YA Game of Thrones, filled with political intrigue and mystery. This is another book that has gotten a bit of hype, and I'm looking forward to seeing if it lives up to it.
"Princess Hesina of Yan has always been eager to shirk the responsibilities of the crown, dreaming of an unremarkable life. But when her beloved father is found dead, she's thrust into power, suddenly the queen of a surprisingly unstable kingdom. What's more, Hesina believes that her father was murdered—and that the killer is someone close to her.
Hesina's court is packed full of dissemblers and deceivers eager to use the king's death for political gain, each as plausibly guilty as the next. Her advisers would like her to blame the neighboring kingdom of Kendi'a, whose ruler has been mustering for war. Determined to find her father's actual killer, Hesina does something desperate: she enlists the aid of a soothsayer—a treasonous act, punishable by
death, since magic was outlawed centuries ago.
Using the information provided by the sooth, and uncertain if she can trust her family, Hesina turns to Akira—a brilliant investigator who's also a convicted criminal with secrets of his own. With the future of Yan at stake, can Hesina find justice for her father? Or will the cost be too high?"

Goodreads
3. The Red Scrolls of Magic (The Eldest Curses #1) by Cassandra Clare and Wesley Chu
I think everyone can agree that Magnus and Alec are some of the best characters in The Shadowhunter Chronicles. Needless to say, I'm so excited that they're getting their own series!!! I've been waiting for this for too long.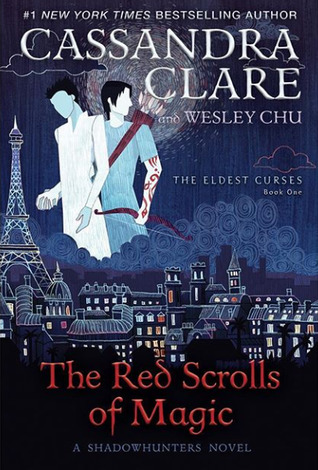 "All Magnus Bane wanted was a vacation—a lavish trip across Europe with Alec Lightwood, the Shadowhunter who against all odds is finally his boyfriend. But as soon as the pair settles in Paris, an old friend arrives with news about a demon-worshipping cult called the Crimson Hand that is bent on causing chaos around the world. A cult that was apparently founded by Magnus himself. Years ago. As a joke.
Now Magnus and Alec must race across Europe to track down the Crimson Hand and its elusive new leader before the cult can cause any more damage. As if it wasn't bad enough that their romantic getaway has been sidetracked, demons are now dogging their every step, and it is becoming harder to tell friend from foe. As their quest for answers becomes increasingly dire, Magnus and Alec will have to trust each other more than ever—even if it means revealing the secrets they've both been keeping."

Goodreads
April 16th
Last year, I finally started reading Jenn Bennett's books, and fell in love with them. I went on a binge of all of her YA contemporaries, and I'm dying for more. At this point, it doesn't even matter to me what it's actually about. If it's written by Jenn Bennett, I'll read it.
"Mystery-book aficionado Birdie Lindberg has an overactive imagination. Raised in isolation and homeschooled by strict grandparents, she's cultivated a whimsical fantasy life in which she plays the heroic detective and every stranger is a suspect. But her solitary world expands when she takes a job the summer before college, working the graveyard shift at a historic Seattle hotel.
In her new job, Birdie hopes to blossom from introverted dreamer to brave pioneer, and gregarious Daniel Aoki volunteers to be her guide. The hotel's charismatic young van driver shares the same nocturnal shift and patronizes the waterfront Moonlight Diner where she waits for the early morning ferry after work. Daniel also shares her appetite for intrigue, and he's stumbled upon a real-life mystery: a famous reclusive writer—never before seen in public—might be secretly meeting someone at the hotel.
To uncover the writer's puzzling identity, Birdie must come out of her shell…discovering that most confounding mystery of all may be her growing feelings for the elusive riddle that is Daniel."

Goodreads
April 23rd
1. The Tiger at Midnight (The Tiger at Midnight Trilogy #1) by Swati Teerdhala
I am living for all the new fantasy novels coming out, and especially #ownvoices ones! This synopsis has me so intrigued and I can't wait to dive in.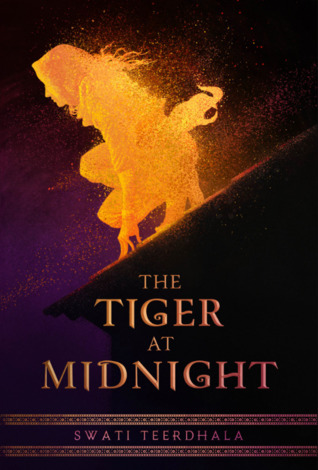 "Esha is a legend, but no one knows. It's only in the shadows that she moonlights as the Viper, the rebels' highly skilled assassin. She's devoted her life to avenging what she lost in the royal coup, and now she's been tasked with her most important mission to date: taking down the ruthless General Hotha.
Kunal has been a soldier since childhood, training morning and night to uphold the power of King Vardaan. His uncle, the general, has ensured that Kunal never strays from the path—even as a part of Kunal longs to join the outside world, which has been growing only more volatile.
Then Esha's and Kunal's paths cross—and an unimaginable chain of events unfolds. Both the Viper and the soldier think they're calling the shots, but they're not the only players moving the pieces. As the bonds that hold their land in order break down and the sins of the past meet the promise of a new future, both rebel and soldier must make unforgivable choices."

Goodreads
---
What is your most anticipated release this April?
---
Related:
– My March Favorites + April TBR
– My Top 10 March Releases + TBR