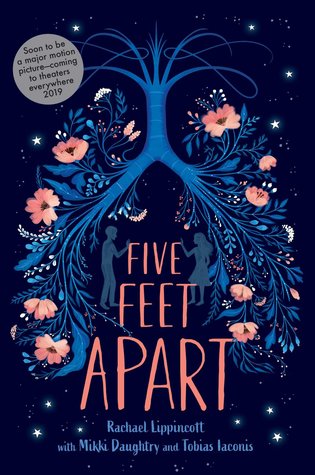 Overall: 2.5/5 Stars
Characters: 2.5/5
Setting: 4/5
Writing: 3/5
Plot and Themes: 2/5
Awesomeness Factor: 1/5
Review in a Nutshell: Five Feet Apart is exactly what you'd expect it to be. It's a tearjerker romance with solid characters and decent writing, but lacked originality.
"Everyone in this world is breathing borrowed air."
// Content Warning: Death, Illness //
– Premise –
Five Feet Apart follows Stella and Will, two patients in a hospital with Cystic Fibrosis. When they meet, sparks fly, but because of their illness, they must always remain six feet apart from each other.
"How long will I live my life afraid of what-ifs?"
– Writing –
This book had a team of people behind it, but despite that, it never really felt like anything special. To me, this was a quick, one day read, that was ultimately kinda forgettable (especially when compared to books in the same subgenre of YA contemporary). The writing style was okay, not particularly interesting or unique. The setting was interesting, being that it was pretty much entirely the hospital, and a lot of the medical aspects of the plot and setting felt fairly accurate. However, I'm not that familiar with CF so I would definitely recommend checking out the reviews of people who actually live with CF (like this one).
"If this is all we get, then let's take it. I want to be fearless and free."
– Plot –
Like I said before, this book is exactly what you expect it to be. There's drama, angst, some moving moments, and some cute moments. The book focused mostly around the romance, with very little driving it plot-wise, however, the drama makes the book feel fast. There was one thing that I really didn't like, but it's a bit of a spoiler but if you don't mind that, then click here to see my goodreads review where I have it under spoiler tags.
"If this year has taught me anything, it's that grief can destroy a person."
– Characters –
There are a few different characters in this book, but let's be real, it's mostly about Will and Stella. They both are well-developed characters, unique and interesting, but I also had some problems with them. Mostly, I think I'm just done with seeing characters decide that living with a chronic illness and disability isn't really living and that they should be risking their safety to experience more. I understand that it's a common feeling, but as someone with a disability, it just bothers me how frequently it's portrayed and how "cool" media makes it seem. It was fine in the first few books that had that theme, but now I feel like exploring that theme even further isn't necessary and is not worth the potential harm it may bring to any teens who maybe aren't experiencing things due to an illness or disability, and are constantly being told that that's not really living. In this book, Stella does call that out a bit, which got me excited, but then she finds herself thinking the same things at times.
"I'm tired of living without really living. I'm tired of wanting things. We can't have a lot of things. But we could have this."



(I really am starting to hate this trope/cliche)
– Conclusion –
Pros- Cute, quick read
Cons- Not that original, a few things I had problems with 
Overall- 2.5/5 stars. 
If you're planning on seeing the movie, then maybe pick up the book. Otherwise, feel free to skip this one.