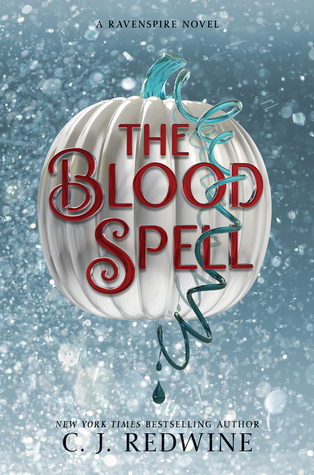 Overall: 4.5/5 Stars
Characters: 4/5
Setting: 5/5
Writing: 5/5
Plot and Themes: 4/5
Awesomeness Factor: 4.5/5
Review in a Nutshell: The Blood Spell is a fun, adorable Cinderella retelling with lots of heart, although it isn't my favorite C. J. Redwine book.
"Grief was easier to bear when it was shared with those left behind."
// Content Warning: Violence, Death, Panic Attacks, Anxiety, Depression, Child Abuse, Animal Death, Murder, PTSD //
– Premise –
The Blood Spell is told from multiple, third person point of views, including our two protagonists: Blue and Prince Kellan. Blue is an alchemist, with fae magic in her blood that she is forced to hide. All she wants to do is help her kingdom's homeless children who keep disappearing, but when her father is killed and she's forced to live with an abusive noble, she must look for help in the person she hates most– Prince Kellan. Meanwhile, Prince Kellan is forced into a game of deadly politics in order to find a bride before his nineteenth birthday, but the more time he spends with Blue, the harder it is to pick a girl to marry from the high ranking ladies he is forced to select his wife from. 
"It would be another test. Another game where the lies were pretty, the questions were pointed, and the calculations were shrewd."
– Writing –
C. J. Redwine's writing is dark, gritty, and realistic. While this book is definitely one of the lighter feeling ones in the series, it still has those dark elements that make it so fun. One thing I love about her writing is how accessible it is. Her books never feel heavy or too gritty, and they're always easy to jump into and enjoy. Being the fourth book set in this world, I loved seeing the familiar aspects of the setting while also seeing a new kingdom that was only briefly mentioned in previous books. Balvata is an interesting new setting, that's very well developed and feels unique from all the other Ravenspire-Universe kingdoms.
– Plot –
Speaking of easy to jump into– this book's pacing was great! It rarely lulled, with always something interesting happening or about to break through. My only complaint is that there were a couple of plot elements (one in particular) that felt a little too convenient or forced. The one that bothered me most was something that happened at the end to resolve a major conflict, that was never mentioned as an option beforehand, but really should have been. It felt like it was just thrown in there last second to make sure the book is as Cinderella-y as it could get, and to make sure the ending was as happy as possible. 
"She wanted to be limitless, and she was about to get her wish."
– Characters –
I loved Blue and Kellan so much. They were both amazing characters. Blue is such a strong character and I loved how this book didn't gloss over her father's death and actually showed her grieving and trying to cope. Kellan was equally strong and interesting. If you read The Traitor Prince, then you may remember him as Javan's roommate at boarding school, and while his character didn't really interest me then, he was so much more fleshed out and compelling in this book. I also loved the relationship between Blue and Kellan, growing from hate, to friendship, to love. It was absolutely adorable and felt realistic. 
The one downside was the villain— the "evil stepmother". It took about halfway through the book for me to understand her motivations and a lot of what she does just feels unnecessary and only there to make this an accurate Cinderella retelling. After the amazing villain in The Traitor Prince, I was just a little disappointed.
– Conclusion –
Pros- Realistic protagonist, great setting, adorable romance
Cons- One aspect of the ending was a little forced, and the villain was weak
Overall- 4.5/5 stars.
The Blood Spell is a cute, fun Cinderella retelling with dark and gritty edges that will have you hooked!
"The kingdom needed a girl full of poison and reckless courage."