Updates
Before I go into all the fun releases in March, I just wanted to talk about a few updates & changes for my blog. If you came here just to see my top 10, feel free to skip this and get to the books!
The main update is that I may have to cut back on my posts a little bit. I got cast in a play. I'm extremely excited, but it's definitely a bit of a commitment. With rehearsals in addition to the courses I'm taking this semester, my work schedule, service dog training, writing, and whatever else life decides to throw at me these next two months, I just can't keep up. Normally, I read ten books, review 8 books, and make a wrap-up, TBRs, and anticipated releases post every month (plus some extras). While I really want to keep doing that, it just isn't possible.
I'm won't be going away completely, but I'll definitely be cutting back for the next two months (March-April). I still plan on posting as regularly as I can, but just know if I miss a review or two, this is why. I may start doing some mini-reviews to try to keep up with my posting schedule. The one major change is that I will be doing less structured recommendations (which I've started cutting back on already), and focusing more on random fun posts that don't require an hour spent on graphics. Also, my monthly TBRs and wrap-up's will now be added to the end of my Releases posts, to save time and consolidate a little.
Thank you guys for sticking with me through this, and I look forward to going back to my normal schedule once things die down a bit at home!
---
March Releases
Note: These are in order of release date
March 1st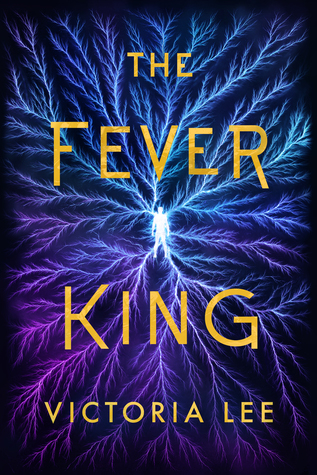 10. The Fever King (Feverwake, #1) by Victoria Lee
"In the former United States, sixteen-year-old Noam Álvaro wakes up in a hospital bed, the sole survivor of the viral magic that killed his family and made him a technopath. His ability to control technology attracts the attention of the minister of defense and thrusts him into the magical elite of the nation of Carolinia.
The son of undocumented immigrants, Noam has spent his life fighting for the rights of refugees fleeing magical outbreaks—refugees Carolinia routinely deports with vicious efficiency. Sensing a way to make change, Noam accepts the minister's offer to teach him the science behind his magic, secretly planning to use it against the government. But then he meets the minister's son—cruel, dangerous, and achingly beautiful—and the way forward becomes less clear.
Caught between his purpose and his heart, Noam must decide who he can trust and how far he's willing to go in pursuit of the greater good."


Goodreads
March 5th
9. The Everlasting Rose (The Belles, #2) by Dhionelle Clayton
"In this sequel to the instant New York Times bestseller, Camille, her sister Edel, and her guard and new love Remy must race against time to find Princess Charlotte. Sophia's Imperial forces will stop at nothing to keep the rebels from returning Charlotte to the castle and her rightful place as queen. With the help of an underground resistance movement called The Iron Ladies-a society that rejects beauty treatments entirely-and the backing of alternative newspaper The Spider's Web, Camille uses her powers, her connections and her cunning to outwit her greatest nemesis, Sophia, and restore peace to Orleans." 

Goodreads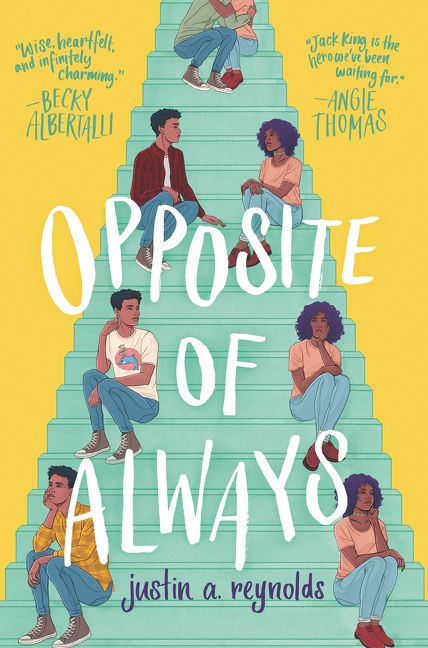 8. Opposite of Always by Justin A. Reynolds
"When Jack and Kate meet at a party, bonding until sunrise over their mutual love of Froot Loops and their favorite flicks, Jack knows he's falling—hard. Soon she's meeting his best friends, Jillian and Franny, and Kate wins them over as easily as she did Jack. Jack's curse of almost is finally over.
But this love story is . . . complicated. It is an almost happily ever after. Because Kate dies. And their story should end there. Yet Kate's death sends Jack back to the beginning, the moment they first meet, and Kate's there again. Beautiful, radiant Kate. Healthy, happy, and charming as ever. Jack isn't sure if he's losing his mind. Still, if he has a chance to prevent Kate's death, he'll take it. Even if that means believing in time travel. However, Jack will learn that his actions are not without consequences. And when one choice turns deadly for someone else close to him, he has to figure out what he's willing to do—and let go—to save the people he loves."


Goodreads
March 12th
7. When the Sky Fell on Splendor by Emily Henry
Emily Henry never fails to write amazing books. Her previous novels (The Love That Split The World and A Million Junes) are two of my favorites!
"Almost everyone in the small town of Splendor, Ohio, was affected when the local steel mill exploded. If you weren't a casualty of the accident yourself, chances are a loved one was. That's the case for seventeen-year-old Franny, who, five years after the explosion, still has to stand by and do nothing as her brother lies in a coma.
In the wake of the tragedy, Franny found solace in a group of friends whose experiences mirrored her own. The group calls themselves The Ordinary, and they spend their free time investigating local ghost stories and legends, filming their exploits for their small following of YouTube fans. It's silly, it's fun, and it keeps them from dwelling on the sadness that surrounds them.
Until one evening, when the strange and dangerous thing they film isn't fiction–it's a bright light, something massive hurdling toward them from the sky. And when it crashes and the teens go to investigate…everything changes."

Goodreads

6. Bloodleaf (Bloodleaf #1) by Crystal Smith
"Princess Aurelia is a prisoner to her crown and the heir that nobody wants. Surrounded by spirits and banned from using her blood-magic, Aurelia flees her country after a devastating assassination attempt. To escape her fate, Aurelia disguises herself as a commoner in a new land and discovers a happiness her crown has never allowed. As she forges new bonds and perfects her magic, she begins to fall for a man who is forbidden to rule beside her. But the ghosts that haunt Aurelia refuse to abandon her, and she finds herself succumbing to their call as they expose a nefarious plot that only she can defeat. Will she be forced to choose between the weight of the crown and the freedom of her new life?"

Goodreads
March 19th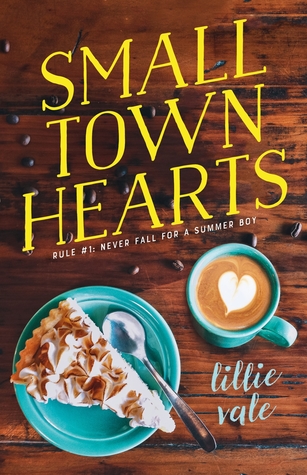 5. Small Town Hearts by Lillie Vale
I was lucky enough to read an ARC of Small Town Hearts, and I have to say, it is amazing! I highly recommend it if you're looking for a fun, lighthearted summery read.
"Fresh out of high school, Babe Vogel should be thrilled to have the whole summer at her fingertips. She loves living in her lighthouse home in the sleepy Maine beach town of Oar's Rest and being a barista at the Busy Bean, but she's totally freaking out about how her life will change when her two best friends go to college in the fall. And when a reckless kiss causes all three of them to break up, she may lose them a lot sooner. On top of that, her ex-girlfriend is back in town, bringing with her a slew of memories, both good and bad.
And then there's Levi Keller, the cute artist who's spending all his free time at the coffee shop where she works. Levi's from out of town, and even though Babe knows better than to fall for a tourist who will leave when summer ends, she can't stop herself from wanting to know him. Can Babe keep her distance, or will she break the one rule she's always had – to never fall for a summer boy?" 


Goodreads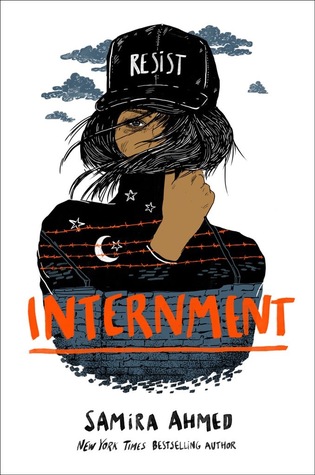 I read Samira Ahmed's last book, Love, Hate, & Other Filters, and didn't love it (check out my review here), but the premise of this book sounds too good to not pick up.
"Set in a horrifying near-future United States, seventeen-year-old Layla Amin and her parents are forced into an internment camp for Muslim American citizens.
With the help of newly made friends also trapped within the internment camp, her boyfriend on the outside, and an unexpected alliance, Layla begins a journey to fight for freedom, leading a revolution against the internment camp's Director and his guards." 


Goodreads
Meagan Spooner is such an amazing author!!! I loved the Starbound series, and I loved Hunted, so I imagine I will love this book as well. Plus, read that synopsis. It seems so fun.
"Robin of Locksley is dead.
Maid Marian doesn't know how she'll go on, but the people of Locksley town, persecuted by the Sheriff of Nottingham, need a protector. And the dreadful Guy of Gisborne, the Sheriff's right hand, wishes to step into Robin's shoes as Lord of Locksley and Marian's fiancé.
Who is there to stop them?
Marian never meant to tread in Robin's footsteps—never intended to stand as a beacon of hope to those awaiting his triumphant return. But with a sweep of his green cloak and the flash of her sword, Marian makes the choice to become her own hero: Robin Hood." 


Goodreads
March 26th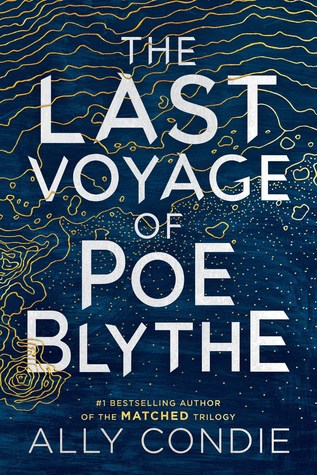 2. The Last Voyage of Poe Blythe by Ally Condie
Sooooo I wasn't a fan of the Matched series (loved the first book, but the rest went very steeply downhill then off a cliff), but I'm curious to see how Ally Condie's writing has changed, and I definitely want to give her another chance.
"There is something Poe Blythe, the seventeen-year-old captain of the Outpost's last mining ship, wants far more than the gold they tear from the Serpentine River. 
Revenge. 
Poe has vowed to annihilate the river raiders who robbed her of everything two years ago. But as she navigates the treacherous waters of the Serpentine and realizes there might be a traitor among her crew, she must also reckon with who she has become, who she wants to be, and the ways love can change and shape you. Even—and especially—when you think all is lost."

Goodreads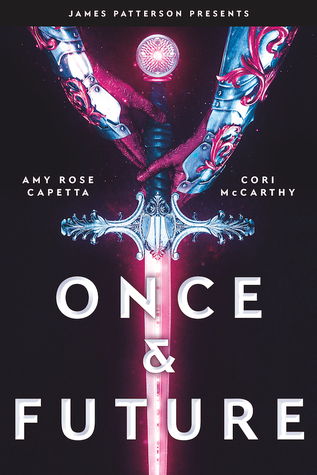 1. Once & Future (Once & Future, #1) by Amy Rose Capetta & Cori Mccarthy
"When Ari crash-lands on Old Earth and pulls a magic sword from its ancient resting place, she is revealed to be the newest reincarnation of King Arthur. Then she meets Merlin, who has aged backward over the centuries into a teenager, and together they must break the curse that keeps Arthur coming back. Their quest? Defeat the cruel, oppressive government and bring peace and equality to all humankind.
No pressure." 


Goodreads
---
My February Favorites:
I read 10 books in February, and here are a few that I absolutely adored (even if they hurt me)(looking at you, King of Scars).
Click ratings for my review.
My March TBR:
1. Wicked Saints (Something Dark and Holy, #1) by Emily A. Duncan (ARC)
2. The Storm Crow (The Storm Crow, #1) by Kalyn Josephson (ARC)
3. Sherwood by Meagan Spooner
---
And that's it! This post got kinda long, but hopefully, you stuck with me there.
What books are you most looking forward to reading (new releases or from your backlist)?