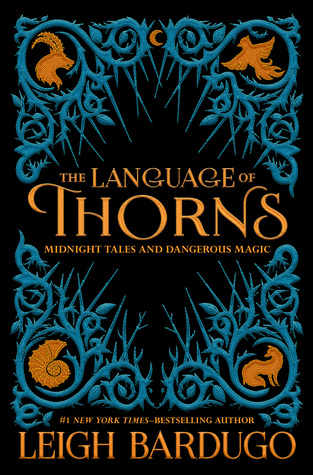 Overall: 4.8/5 Stars
Characters: 4.5/5
Setting: 5/5
Writing: 5/5
Plot and Themes: 5/5
Awesomeness Factor: 5/5
Review in a Nutshell: The Language of Thorns is a fantastic collection of dark and riveting short stories that will become your new favorite fairytales.
"We were not made to please princes." 
// Content Warning: Violence, Death, Animal Death, Abuse, Sexual Assault, Murder //
"This goes to show you that sometimes the unseen is not to be feared and that those meant to love us most are not always ones who do." 
Ayama and the Thorn Wood: 5 Stars
I loved this story. This is a mix of Snow White, Red Riding Hood, and even a bit of Cinderella. It was a really fun read, with a perfect ending. This is probably the closest to a Disney fairytale that you'll find in this collection, but even then, it has a dark edge that makes it truly unique. 
"The trap is loneliness, and none of us escapes it. Not even me."
The Too-Clever Fox: 5 Stars
This was one of my favorites in the collection. The story of the Too-Clever Fox is one alluded to in The Grisha Trilogy, but it truly stands on it's own. While the twist wasn't a huge surprise, it made for a great story. There's something about clever protagonists, who perhaps aren't as smart as they think, that I absolutely adore and always will. 
So shut the window tight and make sure the latch is fastened. Dark things have a way of slipping in through narrow spaces.
The Witch of Duva: 4.5 Stars
This is a bit of a Hansel & Gretel retelling, but trust me when I say it's not what you'd expect. I went in thinking I knew where this was going and I was so wrong. This one is definitely one of the darker tales in the collection, and it's ending will stick with you. 
"And should you ever take a bride, listen closely to her questions. In them you may hear her true name like the thunder of a lost river, like the sighing of the sea."
Little Knife: 3.5 Stars
This is the only story that kinda bored me. While I liked the twist ending, everything leading up to it felt a little predictable, and I didn't really care for any of the characters. The ending was the one redeeming factor for me, plus the gorgeous writing that Leigh Bardugo has mastered.
"This is the problem with even lesser demons. They come to your doorstep in velvet coats and polished shoes. They tip their hats and smile and demonstrate good table manners. They never show you their tails." 
The Soldier Prince: 4 Stars
I was so excited to see a Kerch fairytale, and this one did not disappoint. While it wasn't as fascinating as some of the other tales, it still caught my interest. It's a unique take on The Nutcracker, and while it lacked the very surprising twists that some of the other tales had, it was written so well, you can't help but love it.
"This is the problem with making a thing forbidden. It does nothing but build an ache in the heart."
When Water Sang Fire: 5 Stars
This story. It's amazing (and my other favorite in the collection). It's similar to The Little Mermaid but I won't say how because this story is best going into knowing very little. It's the longest story in the book, which means you really get to know the characters and their world, making it have such an amazing impact. Also, there's a fun cameo from a character we all love/love-to-hate.
"Love speaks in flowers. Truth requires thorns." 
– Conclusion –
Pros- Beautiful writing, GORGEOUS illustrations, such unique twists and deliciously dark stories!
Cons- Some stories were less interesting than the others 
Overall- 4.8/5 stars. 
The Language Of Thorns is a collection of fairytales for those who look for adventures in shadows and friends in monsters. These stories will stay with you long after you put them down.
"Shall we have something good to eat? Well then, come help me stir the pot."