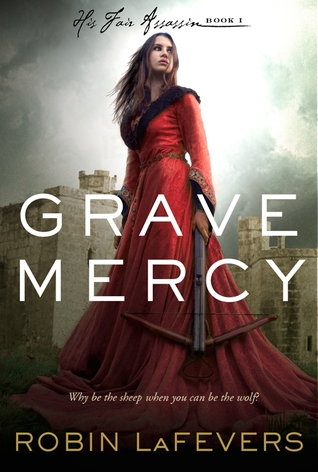 Overall: 5/5 Stars
Characters: 5/5
Setting: 5/5
Writing: 4/5
Plot and Themes: 4/5
Awesomeness Factor: 5/5
Review in a Nutshell: Grave Mercy is a unique, fascinating historical with a thrilling blend of fantasy, romance, and murder.
"When one consorts with assassins, one must expect to dance along the edge of a knife once or twice." 
// Content Warning: Violence, Death, Assault, War Themes, Murder, Illness//
"So…. You are well equipped for our service.'
'Which is?'
'We kill people." 
– Premise –
Grave Mercy follows Ismae, who serves the God of Death at the convent of St. Mortain. There, she has trained to be an expert assassin. However, her most recent assignment has her maneuvering the politics of the high court of Brittany, where she must decide if she is to follow her heart or her orders.
"Good intentions are only lies the weak tell themselves." 
– Plot –
This is the book that made me fall in love with political intrigue. There is so much going on, with different plot threads and motivations in play. However, this book can feel very slow. It's a little on the longer side, and there are times when you can tell. The plot moves slowly as Ismae learns more about the court. That said, if you're willing to bear with it, it is so worth it!
"One heart cannot serve two masters." 
– Writing & Setting –
I loved this setting. I went in knowing nothing about Brittany in the 1400's, but I left wanting to know even more. Robin LaFevers perfectly shows this world of politics and treason, with her own added mythology that is absolutely fascinating. It helps make this book the truly unique read it is.
"… while I am Death's daughter and walk in His dark shadow, surely the darkness can give way to light sometimes." 
– Characters –
Ismae is such an amazing protagonist. She's strong and smart, but still has flaws. The love interest, Duval, is a really interesting character. Their romance was absolutely adorable! It definitely does take up a big part of the plot, but I had no issue with that. All of the side characters are well developed, which is great because some of them end up with their own books!
"Why be the sheep when you can be the wolf?" 
– Conclusion –
Pros- Great characters, unique premise, lots of politics
Cons- It can get really slow 
Overall- 5/5 stars. 
Grave Mercy is captivating, with a mythology sure to enthrall you and a web of politics and lies that only grows deeper and deeper the more you untangle it. 
Add to Your Goodreads Shelf
Purchase on Amazon