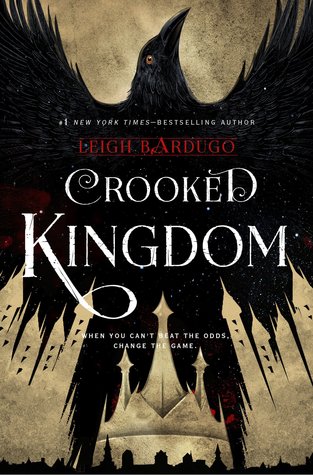 Overall: 5/5 Stars
Characters: 5/5
Setting: 5/5
Writing: 5/5
Plot and Themes: 5/5
Awesomeness Factor: 5/5
Review in a Nutshell: Crooked Kingdom is the epic finale you never could have imagined. It is enthralling, earthshaking, and electrifying. You can't miss this book.
"Sometimes, the only way to get justice is to take it for yourself."
// Content Warning: Violence, Death, Gun Violence, Sexual Assault (Sex trafficking, not shown), Drug Addiction, Abuse, PTSD, Genocide //
"Be the thing they all fear when they close their eyes at night." 
– Premise –
Crooked Kingdom takes place after the events of Six of Crows, following everyone's favorite criminals as they seek justice and vengeance. 
"No mourners, no funerals. Another way of saying good luck. But it was something more. A dark wink to the fact that there would be no expensive burials for people like them, no marble markers to remember their names, no wreaths of myrtle and rose." 
– Setting –
I love the world Leigh Bardugo has built. With every new novel, she adds so much depth to this fascinating fantasy world. There are so many intricate layers in Ketterdam alone that make this setting so interesting. I loved seeing more of the darker side of this world that Leigh created. 
"Fear is a phoenix. You can watch it burn a thousand times and still it will return." 
– Writing –
I think it's been established that Leigh Bardugo is a goddess. Her writing style is beautiful, with gorgeous prose and elegant flow, plus a fair share of humor and levity to break up the dark story. You can tell how carefully she crafted sentences to create this atmosphere of this series.
"I don't hold a grudge. I cradle it. I coddle it. I feed it fine cuts of meat and send it to the best schools. I nurture my grudges, Rollins." 
– Plot-
Crooked Kingdom doesn't waste any time throwing you into this world. It definitely starts off faster than Six of Crows did, and the plot itself is engrossing and captivating. I never wanted to put it down.
"'Has anyone noticed this whole city is looking for us, mad at us, or wants to kill us?'
'So?' said Kaz.
'Well, usually it's just half the city.'" 
– Characters – 
I love these characters with all of my heart. Our main group of criminals are so well-developed, with even more of their backstories being fleshed out and explained. Each of their arcs are fascinating to watch (especially Matthias. His development is so. freaking. good). There are even some cameos from characters from the original Grisha trilogy (but don't worry, you still don't need to know anything about that series to love this one). I loved seeing them all again!
"Suffering is like anything else. Live with it long enough, you learn to like the taste." 
– Conclusion –
Pros- The best characters ever, amazing plot, beautiful writing, and overall perfection
Cons- This book made me cry in the middle of my philosophy lecture. Luckily, my professor didn't call me out. And before you say that I shouldn't have been reading during class– start this book and tell me you wouldn't prefer reading it than learning about the ethics of euthanasia. 
Overall- 5/5 stars. 
Crooked Kingdom will make you laugh, cry, and scream. This book cements this duology as one of the best YA fantasies I've ever read. 
"I would have come for you. And if I couldn't walk, I'd crawl to you, and no matter how broken we were, we'd fight our way out together-knives drawn, pistols blazing. Because that's what we do. We never stop fighting."