December was a rough reading month, holidays and finals kinda took over my life, and books were, unfortunately, put aside. But I did get to 3.5 out of 5 books from my December TBR!!! I'll have my wrap up posted tomorrow where I go into more detail on that (and if you're reading this in the future, then it's posted here).
I'll be traveling this month, so I'm not sure how much reading I'll be getting done, but I still hope to start these four books! That said, I'm not putting too much pressure on myself to finish all four. Especially because King of Scars doesn't come out until the 29th, leaving only two days for reading it.
Read more to hear about these books!
The Gilded Wolves (The Gilded Wolves #1) by Roshani Chokshi
Severin Montagnet-Alarie wants nothing more than to receive his inheritance from the powerful Order of Babble. When they offer him just that, in exchange for finding an ancient artifact, Severin must enlist his band of experts to get the job done. "What they find might change the world, but only if they can stay alive." (Goodreads)
I've had an ARC of this book since August, and I keep putting off reading it. I started it back in November, got 12 pages into it, then finishing NaNoWriMo took over my life. I'm hoping to finally read this book in January!
Wicked Saints (Something Dark and Holy #1) by Emily A. Duncan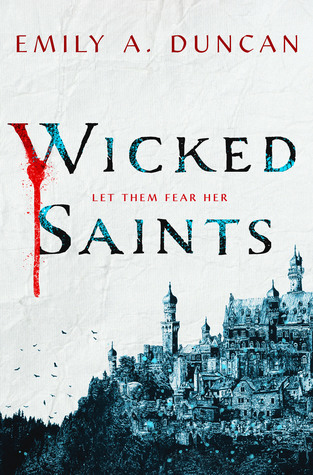 "A girl who can speak to gods must save her people without destroying herself. A prince in danger must decide who to trust. A boy with a monstrous secret waits in the wings. Together, they must assassinate the king and stop the war." (Goodreads).
You may remember this being on my December TBR. So… yeah I never got to it. I really wanted to! But the reading slump got to me. Hopefully, I'll be picking it up this month.
Circle of Shadows (Circle of Shadows #1) by Evelyn Skye
Sora and Daemon are apprentice warriors of the Society of Taigas, and as their graduation approaches, they look forward to proving themselves worthy. "So when Sora and Daemon encounter a strange camp of mysterious soldiers while on a standard scouting mission, they decide the only thing to do to help their kingdom is to infiltrate the group.Taking this risk will change Sora's life forever—and lead her on a mission of deception that may fool everyone she's ever loved." (Goodreads)
I adored Evelyn Skye's The Crown's Game duology, and I'm so excited to see what she does next!
King of Scars (Nikolai Duology #1) by Leigh Bardugo
"Nikolai Lantsov has always had a gift for the impossible. No one knows what he endured in his country's bloody civil war—and he intends to keep it that way. Now, as enemies gather at his weakened borders, the young king must find a way to refill Ravka's coffers, forge new alliances, and stop a rising threat to the once-great Grisha Army." (Goodreads)
Who here is prepared for Leigh Bardugo to rip their heart out? I'm still not over Crooked Kingdom, and I am in no way prepared for King of Scars, but I'm dying to read it.
What are you most excited to read this month?
– Last Month's TBR –
– Last Month's Wrap Up –
– This Month's Most Anticipated Releases –