2019 is starting off strong with so many amazing new releases. This month alone holds some of my most anticipated releases of the year, and I can't wait to dive in and read them!
January 8
1. The Wicked King (The Folk of the Air #2) by Holly Black
The sequel to The Cruel Prince is finally here! I've already read an ARC of this book and it is absolutely amazing (I'll be posting my review on 1/5/19!). This book takes place 6 months after The Cruel Prince, and after binding herself to Cardan in order to protect Oak and the throne, Jude has more power than she could have imagined. Managing the politics of Faerie is a challenge on its own, but Cardan makes a point to undermine and humiliate her whenever he can. With a traitor endangering everything Jude has fought for, she must find a way to maintain control.
2. Slayer (Slayer #1) by Kiersten White
This book takes place in the Buffyverse (the universe of the amazing TV Show, Buffy The Vampire Slayer). Nina and her twin sister grew up at the Watcher's Academy, a school where they train the guides for Slayers– girls gifted with the power to defeat the forces of darkness. But one day, everything changes. "Thanks to Buffy, the famous (and infamous) Slayer that Nina's father died protecting, Nina is not only the newest Chosen One—she's the last Slayer, ever. Period." (Goodreads).
3. Undying (Unearthed #2) by Amie Kaufman & Meagan Spooner
The conclusion to the Unearthed duology. "Trapped aboard the Undying's ancient spaceship and reeling from what they've learned there, scavenger Mia and academic Jules are plunged into a desperate race to warn their home planet of the danger humanity's greed has unleashed. From the mountains of Spain to the streets of Prague, the sequel to Unearthed is a white-knuckle ride that will send readers hurtling back to earth, and leave them breathless until the last page." (Goodreads).

January 15
4. The Gilded Wolves (The Gilded Wolves #1) by Roshani Chokshi
Severin Montagnet-Alarie wants nothing more than to receive his inheritance from the powerful Order of Babble. When they offer him just that, in exchange for finding an ancient artifact, Severin must enlist his band of experts to get the job done. "What they find might change the world, but only if they can stay alive." (Goodreads)
5. Echo North by Joanna Ruth Meyer
"Echo Alkaev's safe and carefully structured world falls apart after her father leaves for the city and mysteriously disappears. Believing he is lost forever, Echo is shocked to find him half-frozen in the winter forest six months later, guarded by a strange talking wolf—the same creature who attacked her as a child. The wolf presents Echo with an offer: for her to come and live with him for a year. But there is more to the wolf than Echo realizes." (Goodreads)
Lyra was cast out of her kingdom of daylight by her aunt, only to be saved by a witch who takes her memories and raises her in the forest. However, in her rival kingdom, the prince is dying and must wed the princess of daylight to break his curse. An imposter plans to steal Lyra's crown and her prince, but in order to prove herself and reclaim her throne, Lyra must pass a series of tests.
January 22
7. Circle of Shadows (Circle of Shadows #1) by Evelyn Skye
Sora and Daemon are apprentice warriors of the Society of Taigas, and as their graduation approaches, they look forward to proving themselves worthy. "So when Sora and Daemon encounter a strange camp of mysterious soldiers while on a standard scouting mission, they decide the only thing to do to help their kingdom is to infiltrate the group.Taking this risk will change Sora's life forever—and lead her on a mission of deception that may fool everyone she's ever loved." (Goodreads)
January 29
8. King of Scars (Nikolai Duology #1) by Leigh Bardugo
"Nikolai Lantsov has always had a gift for the impossible. No one knows what he endured in his country's bloody civil war—and he intends to keep it that way. Now, as enemies gather at his weakened borders, the young king must find a way to refill Ravka's coffers, forge new alliances, and stop a rising threat to the once-great Grisha Army." (Goodreads)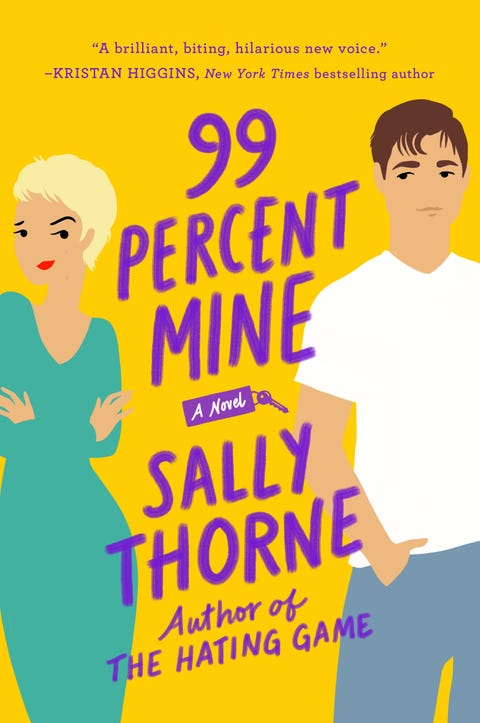 9. 99 Percent Mine by Sally Thorne
(Not YA) For Darcy Berret, no man could compare to Tom Valeska. The issue? He's her twin brother, Jamie's best friend. When Tom comes to help Darcy flip the cottage she and Jamie inherited, sparks fly, but will Darcy be able to stand up to her twin?
10. A Curse So Dark and Lonely (A Curse So Dark And Lonely #1) by Brigid Kemmerer
Harper Lacy has learned to be tough enough to survive, with her father gone, her mother dying, and her brother underestimating her due to her cerebral palsy. "But when she tries to save someone else on the streets of Washington, DC, she's instead somehow sucked into" the world of the cursed Prince Rhen. Rhen must repeat the autumn on his eighteenth year, only to turn into a vicious beast at the end of each fall. However, his curse could be broken if a girl falls for him.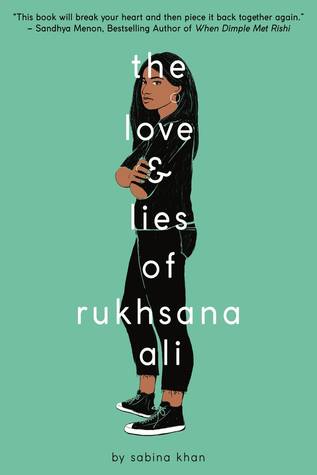 11. The Love and Lies of Rukhsana Ali by Sabina Khan
When Rukhsana Ali's conservative Muslim parents catch her kissing her girlfriend, all of her plans fall apart. She is sent away to Bangladesh, to a world of tradition. "Rukhsana realizes she must find the courage to fight for her love, but can she do so without losing everyone and everything in her life?" (Goodreads)
And those are my most anticipated January releases!
Do any of these books interest you? Are there any books that I didn't include on the list?
-This Month's TBR-
-Last Month's Wrap Up-
-Last Month's Most Anticipated Releases-