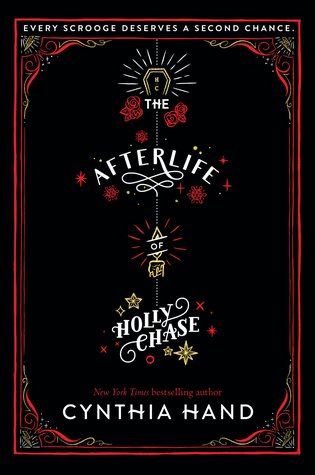 Overall: 4/5 Stars
Characters: 4.5/5
Setting: 4/5
Writing: 4/5
Plot and Themes: 5/5
Awesomeness Factor: 4/5
Review in a Nutshell: The Afterlife of Holly Chase is a cute, funny story that will leave you feeling happy and in the holiday spirit.
"But love doesn't always have to be about the happy ending. Love can be about beginnings, too."
// Content Warning: Death (this is probably obvious) //
– Premise –
The Afterlife of Holly Chase follows Holly, a selfish, mean, vain Scrooge. Five years ago, she was visited by the ghosts of Christmas Past, Present, and Future, and was told she must change her ways. But she didn't. Then she died. But that's not the end for her. She was forced to become the new Ghost of Christmas Past. Her afterlife is miserable until she gets to know more about this year's Scrooge. A teenaged guy that Holly actually finds herself wanting to save.
– Plot-
This book is a retelling of the classic A Christmas Carol, which to be honest, was never my favorite. I'm just not really a Dickens fan. Despite that, the plot is really fun and interesting. There is a twist that took me by complete surprise, and so many entertaining scenarios that just make this book great. 
– Setting –
Magic and reality are blended perfectly in this book. Nothing seems too crazy, yet it's all slightly crazy. The setting is developed really well, balancing the strange with the normal, and creating the perfect landscape for this fun story. 
– Writing –
Holly Black writes with such humor and levity that you can't help but smile while reading. This book is full of sarcasm and wit. She's completely self-aware and knows when something is cliche or predictable and has fun with it. 
– Characters – 
The characters are the only aspect of this book I can imagine people not enjoying. Holly is pretty awful, and Ethan is too. But they do develop and change over the course of the book. When I see people DNFing this book, I get so upset because they're giving up before it gets really good. I also just really enjoy how awful they are sometimes. Especially Holly. She is a mess of a person who I would hate in real life, but I was really entertained by her character.
"Without stories, we're all just lonely islands." 
– Conclusion –
Pros- Fun, quirk, interesting characters, great twist
Cons- You will either love or hate the ending. That's all I can say. Also the characters can take some getting used to.
Overall- 4/5 stars. 
The Afterlife of Holly Chase is a fun A Christmas Carol retelling that will make you feel jolly and happy during the holidays.
Add to Your Goodreads Shelf
Purchase on Amazon