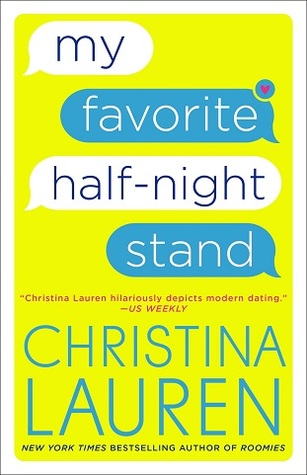 Overall: 4/5 Stars
Characters: 3.5/5
Setting: 5/5
Writing: 4.5/5
Plot and Themes: 4/5
Awesomeness Factor: 4/5
Review in a Nutshell: My Favorite Half-Night Stand is a quirky, fun contemporary that will distract you from the real world for a few hours.
"How many mistakes does it take before you're bad? Does it start with a little white lie, and slowly progress to fraud . . . and worse? Does it matter if you do the wrong thing for the right reason?" 
// Content Warning: Mature Content //
– Premise –
Millie and her four guy friends make a pact to each try an online dating site in hopes of getting dates to a black tie event, but that night, she and her best friend, Ried, spent an amazing half-night together. They decide to just remain friends, but when Millie's fake persona on the dating site matches with Ried, she has to decide if she's willing to be vulnerable in real life.
– Setting –
The setting of this book is basic yet fun. This book really revolves around modern online dating, so the setting takes a back seat to that aspect.
– Writing –
Christina Lauren's writing style is always fun, light, and straightforward. There's plenty of humor and adorableness, plus actual heart and depth. It's the perfect balance that makes this book fly by while you read. 
– Plot-
So, this book involves catfishing and lying, and I'm not a huge fan of that. Usually, I don't mind that kind of stuff in romance novels, or I'm able to ignore it, but in this case, it was definitely less cutesy and funny, and more oh-god-someone-stop-her. However, the suspense over how it all will end does add to the fast pace of the novel. Also, getting slightly spoilery here (but it isn't something major, don't worry)(just skip the rest of this paragraph if you don't want to ruin anything), but it isn't brushed aside as just a quirk of the main character. This was a violation of trust and just an awful thing to do to someone you claim to care about, and the characters address that. )
– Characters – 
There are a lot of good things about these characters. They're realistic, they have compelling arcs (Millie especially), and I really enjoyed that reversing of the stereotypical main couple. Millie was the one who was closed off emotionally, and Ried was trying to get her to open up. I'm so used to seeing emotionally stunted male love interests that this took me by surprise. The downside of these characters was that their decisions occasionally frustrated me. Millie especially. I won't go into details about this, but she made some really stupid choices. The only reason I didn't hate her was because Christina Lauren developed her character so well that they made sense. They annoyed me, but they felt organic. 
– Conclusion –
Pros- Cute, funny, and quick to read
Cons- Characters made some pretty annoying decisions 
Overall- 4/5 stars. 
My Favorite Half-Night Stand is a cute romance if you're looking for something fluffy and fun with a bit of heart, (but it doesn't stand up to Christina Lauren's earlier release this year)(please read Josh and Hazel's Guide to Not Dating).