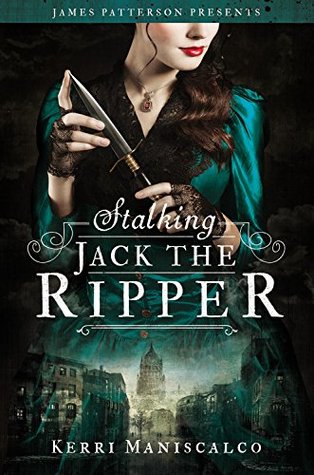 Overall: 5/5 Stars
Characters: 5/5
Setting: 5/5
Writing: 5/5
Plot and Themes: 4.5/5
Awesomeness Factor: 4.6/5
Review in a Nutshell: Stalking Jack the Ripper is an atmospheric mystery full of gruesome murders and fascinating characters.
"Fear is a hungry beast. The more you feed it, the more it grows."
// Content Warning: Violence, Death, Assault, Murder, Gruesome and Detailed Descriptions of Dead Bodies//
– Premise –
Stalking Jack the Ripper takes place in England, 1888, at the start of the now infamous Jack the Ripper killings. Audrey Rose Wadsworth is an apprentice to her uncle, a forensic scientist, and when the killings begin, she and his other apprentice, the infuriating-yet-charming Thomas Cresswell, must try to solve the mystery.
"There's nothing better than a little danger dashed with some romance."
– Setting –
I absolutely love 1800's England. I don't know why, but I just do. And this book manages to include everything I love about it — the fashion, the mannerisms, etc.– while also showing me so much more, that I never expected to enjoy. Admittedly, I'm not familiar with forensic science in the 1800's outside of what I learned in a high school forensics class, but it's evident that Kerri Maniscalco has done her research. She also includes hints of modern feminism in this historical society though Audrey Rose and her cousin, that I absolutely loved. The feminist message can be a little much at times, but it's still really enjoyable.
"Death was not prejudiced by mortal things such as station or gender. It came for kings and queens and prostitutes alike, often leaving the living with regrets."
– Writing –
Kerri Maniscalco's writing style can only be described as atmospheric. She perfectly captures the grotesque nature of the murders, while not making this book only gore. Her writing manages to also have beautiful metaphors, and entertaining wit as well, breaking up the grim scenes.
"Wield your assets like a blade, Cousin. No man has invented a corset for our brains. Let them think they rule the world. It's a queen who sits on that throne. Never forget that."
– Plot-
I'm a big fan of Jack the Ripper. Okay, that sounds bad. I've just always been really fascinated with this case (still sounds bad, please don't put me on an FBI watch list?). So, naturally, I was really excited about this book. Typically, I avoid mysteries (I have no patience), but this is one of the rare occasions that I enjoyed slowly unfolding the clues and plot points to reveal the culprit. I also did not predict the killer at all. The plot felt a little slow in the beginning, it took me over a hundred pages to really get into it, the riveting pace for the remainder of the book makes up for it.
"'If I don't murder you this afternoon, it'll be a gift sent directly from God Himself, and I vow to attend services again,' I said, holding a hand against my heart.
'I knew I'd get you to church eventually.'"
– Characters –
Audrey Rose is an interesting protagonist. Now having read the third book, she's fallen down my list of favorites, but she's still fascinating. She's very well developed and strong, even if some of her decisions bother me. Thomas Cresswell, however, is perfection. He's charming, witty, smart, and just a great character. I loved all of his scenes with Audrey Rose. He never failed to make me smile during this book. The other characters are all well-developed, I especially loved Audrey Rose's cousin and her version of feminism. As for the killer, as I said, I didn't predict who they would be, and I really enjoyed the motivation. This is one of the few books where I felt genuine empathy for the antagonist.
"Roses have both petals and thorns, my dark flower. You needn't believe something weak because it appears delicate. Show the world your bravery."
– Conclusion –
Pros- Atmospheric writing, great characters, fun mystery
Cons- A little slow at times
Overall- 5/5 stars.
Stalking Jack the Ripper is a captivating, feminist murder mystery with killer characters and a gritty setting that will enthrall you.