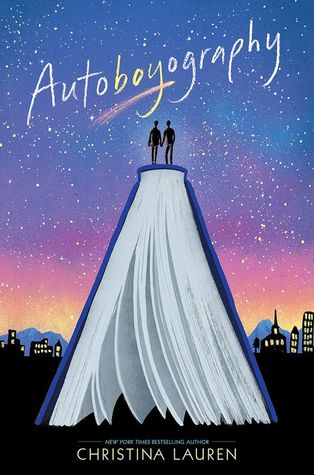 Overall: 5/5 Stars
Characters: 5/5
Setting: 5/5
Writing: 5/5
Plot and Themes: 5/5
Awesomeness Factor: 5/5
Review In A Nutshell:  Autoboyography is an extremely well-done contemporary that is sure to steal your heart.
"A God worthy of your eternal love wouldn't judge you for who you love while you're here." 
// Content Warning: Mature Content, Homophobia //
– Premise –
Autoboyography follows Tanner Scott as he moves from California to Utah, and from out of the closet as bi… to back in. When he begins a class known as the Seminar, where students must draft a novel in four months, he meets Sebastian Brother. Sebastian is a devout Mormon, and there to mentor the class since the novel he wrote during the Seminar is about to be published. Sebastian becomes Tanner's muse, but falling for him only causes problems when he's all Tanner can think– or write– about.
"You have so much space in your heart for your church, but does it have space for you?"
– Setting –
This book takes place in a very Mormon town in Utah. I was hesitant to read it– having grown up as bi in a very Christian town makes this hit a little close to home– but I ended up loving the religious setting of this book more than I could have ever imagined. Christina Lauren do a fantastic job balancing the religious themes and LGBT+ themes. They never bash Mormonism, and instead had the two very different characters of Tanner and Sebastian find middle ground on the subject. Yes, there are issues. Yes, it's not always a healthy life for members of the LGBT+ community, but there are reasons why people still believe.
"But this is your life, and it will stretch out before you, and you are the only person who can make it whatever you want it to be." 
– Writing –
Christina Lauren are now my go-to authors for entertaining contemporaries. They walk the line of cheesy romance, but they add so much depth and character growth that I am always blown away. This was the first book I've read by them, and probably my favorite now that I've read many others (although Josh & Hazel's Guide to Not Dating was so freaking adorable). Their writing style invokes every emotion you can imagine. I went from laughing, to swooning, to sobbing.
"To think that God loves the trees, but condemns that blossoming thing they do in the spring."
– Plot-
The plot in this book revolves around the relationship between these two main characters, Tanner and Sebastian, as well as Tanner's family dynamics and friendship with Autumn. It's heavily influenced by the Mormon religion and their feelings on homosexuality. If that's something that may upset you, I would recommend waiting before reading this book. Christina Lauren are very honest about how Latter Day Saints feel when a family member or member of their community comes out, and its very tragic and can be hard to read for members of the LGBT+ community. That said, I think it's definitely 100% worth reading if you can handle it.
"This is how we reveal ourselves: these tiny flashes of discomfort, the reactions we can't hide."
– Characters – 
Tanner and Sebastian are our main characters, and they are both well developed and complex characters with unique personalities that I loved. I just want to give Sebastian a hug. He needs it. Also, they're both writers! Whenever characters are interesting in writing, I love them 10x more (which, admittedly, isn't necessary for this book because Tanner and Sebastian are already perfect human beings, but still).
– Conclusion –
Pros- Adorable romance, a perfect blend of cheesiness and heartbreaking moments, great perspective on religion, best read with the Book of Mormon soundtrack on repeat (I don't make the rules)
Cons-  I cried way too hard when reading and that is NOT FAIR
Overall- 5/5 stars.
Autoboyography wraps tough topics and harsh realities into the most precious romance that will melt any frozen heart.