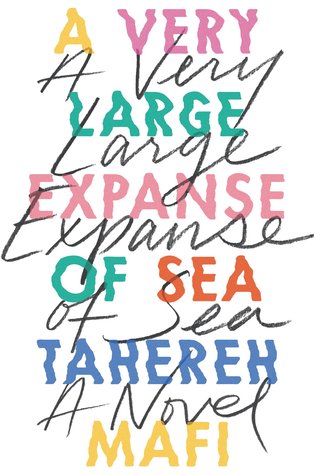 I was lucky enough to receive a galley while at BEA this year, and I was so excited to dive into this fantastic read. Quotes used in this review are from the unfinished galley and may be changed in the published edition. 
Overall: 5/5 Stars
Characters: 5/5
Setting: 5/5
Writing: 5/5
Plot and Themes: 5/5
Awesomeness Factor: 5/5
Review in a Nutshell: A Very Large Expanse of Sea discusses important and relevant topics in a way that is sure to open your eyes, it is beautifully written and immediately pulls you in.
"It never stops hurting. It only gets easier to recover."
//Content warning: Islamophobia, racism, violence//
– Premise –
A Very Large Expanse of Sea takes place in 2002, a year after the events of 9/11, and follows Shirin. Shirin is used to seeing the worst of people due to her religion and the hijab she wears. She's learned to handle the comments, the stares, and even the violence sent her way. She built walls to protect herself, and only really allows herself to relax when break-dancing with her brother and his friends. Then Shirin meets Ocean, a painfully naive boy who she finds herself falling for despite how dangerous it can be for the two of them.
"Part of me felt a little like I'd died. But here, in the silent explosion of my heart, was a quiet that felt familiar."
– Writing –
This novel was fantastic. Tahereh Mafi's writing style really shines. She manages to maintain her beautiful and almost poetic style while not letting it take over and outshine the plot and the message of the book. In this book, I think she found the perfect balance between poetic and realistic, taking it down a notch from previous novels.
"I tried to tell him that the bigots and the racists had always been there, and he said he'd honestly never seen them like this, that he never thought they could be like this, and I said yes, I know. I said that's how privilege works."
– Plot –
The plot is well-paced and very addicting. I couldn't put it down (which says something since I read this book in Disney World). A Very Large Expanse of Sea has the perfect balance between light moments to break up the darker and brutally honest themes. I laughed and cried while pouring over these pages.
"I could no longer distinguish people from monsters. 
I looked out at the world around me and no longer saw nuance. I saw nothing but the potential for pain and the subsequent need to protect myself, constantly." 
– Themes –
Speaking of the themes. Damn. Tahereh Mafi outdid herself with this novel. This book deals with the very true and horrible effects of racism and Islamaphobia. Despite taking place in 2002, it's very clear how prevalent these issues still are today, especially given the current political climate. This book is honestly so important right now, and I wish I could force everyone to read it. I also loved the view of privilege that this book showed through Ocean's character. I can't go into this without spoilers, but I just adored how Mafi handled his character arc and how he was a perfect foil for Shirin's character. But I'll stop myself there before I start writing an essay on the themes of this book.
"So many times, I thought, I'd tried to draw a line in the sand, and I was never strong enough to keep it there."
– Characters –
Shirin, the protagonist, is such an interesting person from start to finish, and her arc is fantastic. Her story is amazing. She is an incredibly strong person, and I imagine she will be an inspiration to many. Ocean is another great character, I loved watching his development and growth throughout the book. Their relationship was absolutely adorable but also felt grounded and real. The side characters were all interesting in their own way as well. Not much time was spent on any of the antagonistic characters, mostly because the society as a whole was the real antagonist, not necessarily one particular person (although I really hated the Coach and wanted to punch him).
"It gives the bullies all the power. It would mean they'd succeeded at making me feel like who I was and what I believed in was something to be ashamed of."
– Conclusion –
Pros- Amazing themes, awesome characters, astonishing writing
Cons- Honestly, can't think of anything
Overall- 5/5 stars.
A Very Large Expanse of Sea is an amazingly written, thought-provoking novel that makes you think about privilege and discrimination while being completely addictive.
Add to Your Goodreads Shelf
Purchase on Amazon