[ Edit (12/2020): This review was first published years ago. My thoughts on this series have changed since then. I still enjoy the series, but the problems in it can't be ignored and must be discussed. I can't reread it right now and completely rewrite this review (although I did adjust my star ratings to better reflect my thoughts on it now), but I think it's important to point out the lack of diversity and harmful representation in this series as a whole. One day I will reread this and change this review to reflect all of these issues. Until then, I wanted to add this disclaimer. ]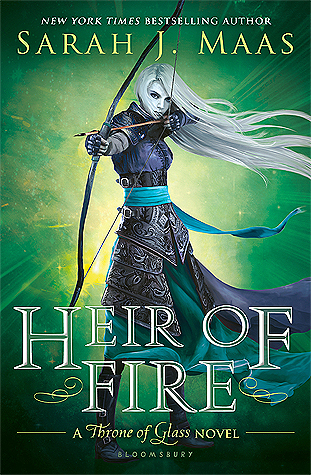 Overall: 3.5/5 Stars
Characters: 4/5
Setting: 5/5
Writing: 4/5
Plot and Themes: 2.5/5
Awesomeness Factor: 2/5
Review In A Nutshell:  While not my favorite in the series, Heir of Fire is still an epic read that will have you immediately craving the next book.
"You collect scars because you want proof that you are paying for whatever sins you've committed. And I know this because I've been doing the same damn thing for two hundred years"


// Heir of Fire Content Warning: Violence, death, suicide mentioned //
"She was the heir of ash and fire, and she would bow to no one." 
– Premise –
Heir of Fire follows Celaena/Aelin's journey to Wendlyn, while Chaol explores Ardalan's mysteries and Dorian tries to learn to control his magic. It also introduces Manon, a witch, leader of a ruthless band of witches known as the Thirteen.
"It would not take a monster to destroy a monster – but light, light to drive out darkness." 
– Setting –
This book introduces a lot of new things to the world. Celaena is now in Wendlyn, an entirely different continent, with lots of interesting aspects. Manon also introduces a new point of view, literally and figuratively, that sheds light on what is going on with those loyal to the King of Ardalan. There is also a lot of mysteries explained in this book, yet for each mystery explained more are added, keeping the momentum of the series.
"Hope. You cannot steal it, no matter how many you rip from their homes and enslave. And you cannot break it, no matter how many you murder."
– Writing –
Sarah J. Maas is a great fantasy writer, and this book is no different from the previous novels in her style, if not more refined.
"He would see that world reborn, even if it took his last breath. Even if he had no name now, no position or title save Oath-Breaker, Traitor, Liar." 

– Plot-
This book is definitely the weakest, plot-wise. A lot is going on, but most of it deals with political intrigue or character development, and has feels less action-packed than the previous books. It is definitely a slow read, and the hardest one to get through. There are a lot of things introduced and the information can make the pacing lack.
"All she knew was that whatever and whoever climbed out of that abyss of despair and grief would not be the same person who had plummeted in." 
– Characters – 
The characters are where this book really shines. We've seen these characters develop since the first book, but this book takes it to the next level. Celaena is broken at the start of this novel. And she thinks she's beyond repair. I loved seeing her growth throughout the book and seeing how she heals and what scars remain. Chaol was never my favorite character, but his chapters included a lot of new characters that I loved. And Dorian. Someone please just give that guy a hug. He needs to be protected from Sarah J. Maas because he can never catch a break. The new characters are equally amazing. Aedion, Sorscha, Rowan, and Manon & the Thirteen are all amazingly written and so different from the cast of characters we've previously seen. There are some cameos from old characters I didn't expect to see that I absolutely loved and gave a lot of closure to plot lines I thought were going to be left open-ended.
"Because hers was not a story of darkness." 

– Conclusion –
Pros- Amazing character development, incredible worldbuilding
Cons- Slow pace, lots of new information and things to learn, also I really just want to protect Dorian
Overall- 4.6/5 stars.
Heir of Fire is a great installment in this breathtaking series. Despite it being slower than the others, it will still blow you away.