[ Edit (12/2020): This review was first published years ago. My thoughts on this series have changed since then. I still enjoy the series, but the problems in it can't be ignored and must be discussed. I can't reread it right now and completely rewrite this review (although I did adjust my star ratings to better reflect my thoughts on it now), but I think it's important to point out the lack of diversity and harmful representation in this series as a whole. One day I will reread this and change this review to reflect all of these issues. Until then, I wanted to add this disclaimer. ]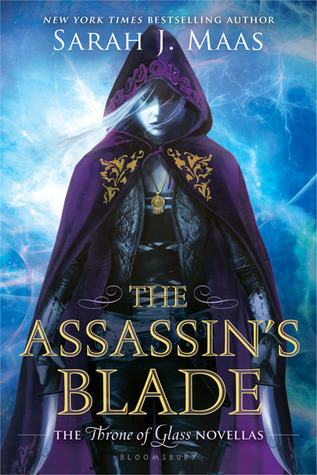 Overall: 4.5/5 Stars
Characters: 4/5
Setting: 5/5
Writing: 5/5
Plot and Themes: 3.5/5
Awesomeness Factor: 2/5
Review in a Nutshell: The Assassin's Blade is a must read for any Throne of Glass fan, giving important insight and fleshing out the fantastic world.
"If you can learn to endure pain, you can survive anything. Some people learn to embrace it- to love it. Some endure it through drowning it in sorrow, or by making themselves forget. Others turn it into anger." 
// The Assassin's Blade Content Warning: Violence, death //
– Premise –
The Assassin's Blade includes five novellas taking place in the world of Throne of Glass, following everyone's favorite assassin, Celaena Sardothien, as she goes on five different missions.
"Life isn't easy, no matter where you are. You'll make choices you think are right, and then suffer for them." 
– Setting –
These novella's show a part of the setting that isn't portrayed in the first two Throne of Glass novels.
"Quiet as mice, quiet as the wind, quiet as the grave." 
– Writing –
Sarah J. Maas, once again, writes beautifully. Her prose is elegant while also maintaining a fast pace for the epic action scenes, which there are quite a few of in this collection.
"She would tuck Sam into her heart, a bright light for her to take out whenever things were darkest." 
– Plot-
The plot in each story varies, but they all connect and tell Celaena's story of what happened leading up to where she was at the beginning of Throne of Glass. Despite knowing how it will end, Sarah J. Maas still keeps the story interesting and throws a few twists. These novella's lay down the groundwork for a lot of things to happen later in the series, as well as explain a few things that weren't clear in the first two novels. Some of the novellas are more interesting than others, but none of them are boring, something I don't see in many novella collections.
"She was fire, she was darkness, she was dust and blood and shadow." 
– Characters – 
There are so many amazing characters introduced in this book! First off- Sam is amazing and I cried so hard while reading. Going into this knowing how it ends still didn't prepare me for what happens. I should have known better. You get so attached to all of these characters! While the individual stories are short (true novella length), each character is given so much depth and personality. This collection also really adds to Celaena's character. She was definitely a well rounded and developed character in the first two books alone, but The Assassin's Blade continues to add layers to her personality and to her history.
"My name is Celaena Sardothien," she whispered, "and I will not be afraid." 
– Conclusion –
Pros- Further explored the fascinating setting, amazing characters
Cons- This book broke my heart.
Overall- 4.8/5 stars.
If you haven't picked up The Assassin's Blade you need to do so immediately! This collection of novella's adds so much to an already fantastic series.