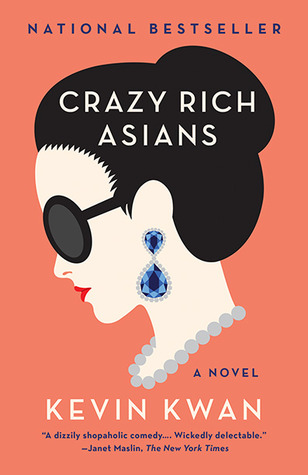 Overall: 2.5/5 Stars
Characters: 3.5/5
Setting: 3.5/5
Writing: 2/5
Plot and Themes: 2/5
Awesomeness Factor: 1/5
Review In A Nutshell: Crazy Rich Asians is a lavish and intriguing story, but occasionally drags.
"Remember, every treasure comes with a price." 
– Premise –
Crazy Rich Asians highlights the extravagant lives of Singapore's one percent. It follows Rachel, a professor in New York, who's boyfriend, Nick, invites her to his best friend's wedding in Singapore, and to meet his family during their summer break. What Rachel doesn't know, is that Nick is part of the richest family in Singapore, and she is about to be thrown to the wolves. Meanwhile, Astrid, Nick's shopaholic cousin believes her husband may be having an affair, and she's determined to find out the truth.
– Setting –
The setting is one of the most interesting aspects of this novel. Kevin Kwan does a fantastic job describing Singapore, from the landscape to the amazing-sounding foods (I was dying the entire time I was reading. Do not read this on an empty stomach). I also loved the insight into the lives of the crazy rich. It was so interesting seeing how they lived, including their insanely expensive houses and clothes.
"Just because some people actually work for their money doesn't mean they are beneath you."
– Writing –
The writing in this novel was good but wasn't fantastic. There's definitely a great sense of humor that was fun, but there were definitely some slow parts where the humor couldn't save it. Kevin Kwan tends to go on multiple paragraph descriptions of designer items to emphasize the extravagance, but after a while it really just took me out of the book and slowed the plot. You can tell he really knows a lot about designer brands and the designers themselves, but there were so many times where it completely took over the scene and the plot and characters were forgotten. I understand he did to show how opulent and lavish these people are, but it shouldn't come at the cost of the reader's interest.
– Plot-
Speaking of slow parts! There were definitely areas where the plot dragged. The beginning felt fairly slow, with the main plot not starting until over a hundred pages in, and the entertaining drama not happening until further after that. The pacing altogether was a little awkward. The beginning was very slow (there are quite a few characters to meet), the middle kind of picked up the pace, but the really interesting things happen in the last 50-70 pages, and then it ends. The ending feels a little abrupt in comparison to how slow the rest of the novel felt. It was as if Kwan realized he's 500 pages in and needed to end the book, so he just did. The main plot threads are tied up (in a way), but so many more are introduced! It wasn't very satisfying.
"Doing nothing can sometimes be the most effective form of action."
– Characters –
The characters really stand out in this novel. There is such an interesting cast! There are so many points of view, which gives you insight into all of the main players' minds and motivations. However, this does make it harder to connect with the main characters. The only character I really felt connected to was Astrid. The other characters were all enjoyable in their own way, a fair mix of characters with depth and characters that really are just caricatures of crazy rich people.
– Conclusion –
Pros– Funny, interesting setting, entertaining characters
Cons– Slow at times, awkward pacing
Overall– 2.5/5 stars.
Crazy Rich Asians was an interesting read but ultimately wasn't crazy enough to hold my interest or to tempt me to continue the series.