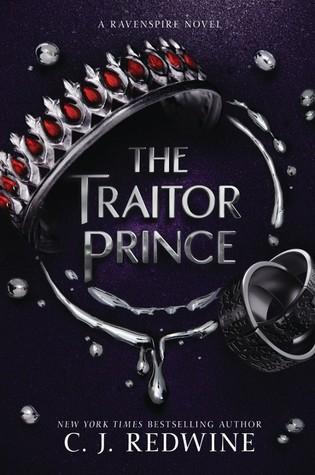 Overall: 5/5 Stars
Characters: 5/5
Setting: 5/5
Writing: 5/5
Plot and Themes: 5/5
Awesomeness Factor: 5/5
Review In A Nutshell: The Traitor Prince is a beautifully written, epic magical story with well developed and interesting characters and an action-packed plot!
"Sometimes it hurts to love someone. I wouldn't change it, though. I wouldn't change a single thing. I love you."
– Premise –
The Traitor Prince follows three different characters. There is Javan, the true prince of the kingdom of Akram, who is thrown into Maqbara, the most brutal prison in the kingdom, after an imposter takes his throne. Rahim is a peasant, despite having royal blood he has lived a life of poverty. Finally, he can get his revenge and take the crown that he deserves, and will kill anyone who gets in his way. Then there is Sajda, a slave to the warden of Maqbara, but she is not what she seems. She and Javan must work together to prepare him for the brutal gladiatorial fights Maqbara holds because if he wins, he will be able to see the King and convince him that he is the true prince of Akram. This book is full of action, magic, and is completely impossible to put down once it begins.
"Power is neither good nor evil. It just is. It's what people do with power that matters." 
– Setting –
The majority of this book takes place in Akram, a desert kingdom filled with corrupt aristocrats. The kingdom itself, however, isn't really seen often. Two of the three narrators spend most of the book in Maqbara, the underground prison. I wish there was more of Akram shown, but the prison was a really interesting backdrop for the story and led to a lot of interesting events that we got to see. I especially loved all the creatures that are brought in for the fights.
– Writing –
C. J. Redwine's writing is absolutely gorgeous and it shows in this novel. Her prose is elegant while also allowing for humor and heart. She is absolutely amazing.
"She knew how to survive in the darkness, but was terrified she'd be lost in the light." 
– Characters –
What I really loved most about this book (to the surprise of no one) was the characters. Redwine creates such real and unique characters that I absolutely loved reading about. Both of the two protagonists had depth, with great character development throughout the book. I also loved how their relationship developed. It wasn't insta-love, instead, it was a slow build that felt believable and adorable. You really understood their friendship and how it would naturally turn into a romance. It was realistic, not over-dramatic and cliche. And I loved every second of it. My favorite character, however, was the traitor prince himself, Rahim. He was just a cunning, brutal character who knew what he wanted and would do anything to achieve his goals. I always love a well-written antagonist in a book, and Rahim is exactly that. His motives were believable, his actions made sense for his character, yet he also remained unpredictable and surprising. He's probably one of my favorite fictional villains.
"A god among men indeed."
– Conclusion –
Pros– Amazing characters, beautifully written, great setting
Cons– The only complaint I can think of is about the ending – (not-really-but-somewhat spoilers) – I feel like it wrapped everything up a little too neatly in just that one scene. While I do like the ending, it just surprised me how quickly everything was taken care of.
Overall- 5/5 stars.
If you have read the other books in the Ravenspire series, then you definitely need to read The Traitor Prince. If you haven't read the Ravenspire series yet, what are you doing? Go! Start it now! However, if you don't want to read every book in the series, I would say read this one.
Add to Your Goodreads Shelf
Purchase on Amazon
Note: This review was originally written for my other blog, and had been written months ago. Follow my blog to see new reviews twice a week, and please be patient as I transfer over old posts to the new website!