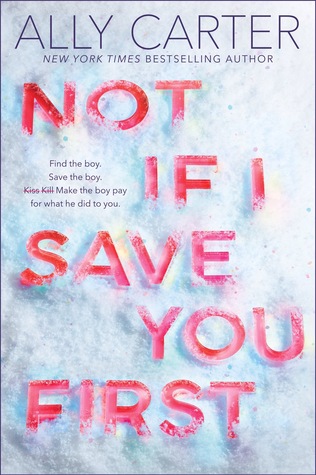 Overall: 3.5/5 Stars
Characters: 3/5
Setting: 4/5
Writing: 3/5
Plot and Themes: 4/5
Awesomeness Factor: 3/5
Review In A Nutshell:  Not If I Save You First is a fun, lighthearted younger-YA book that's easy to jump into and enjoy.
"Someday I'm going to write a book: How to Not Die in Alaska — A Girl's Guide to Fashionable Survival."
Not If I Save You First follows Maddie and Logan, two ex-best friends who haven't spoken for six years. When Logan is sent by his father, the President, to live with Maddie and her father in a remote Alaska cabin, he is followed by a killer. It's up to Maddie to save him, despite how much she wishes she could kill him herself.
The plot is very fast-paced, with plenty of suspense and action. The pages fly by, making for a really quick and lighthearted read. It's not too deep or thought-provoking, but it's definitely fun. The writing style is straightforward, favoring a bit more towards telling than showing, but is still enjoyable. This really isn't a heavy, dark read. It's quick, simple, and just a good time.
The characters in this book were entertaining. They weren't the most realistic people, but I still enjoyed their dialogue and interactions. Maddie is girly but tough, able to survive in a place that wants to kill you and making sure she looks good while doing it. Logan is smart, loyal, and a bit naive. Their banter is fun, and their relationship cute. While they aren't the most down to earth people, I still enjoyed reading from their perspectives and seeing how they handle the situations they get into.
Pros– Fun, lighthearted, quick pace, entertaining dialogue
Cons– The plot and themes are surface level and simple, the character lack depth and can be a bit stereotypical
Overall- 3.5/5 stars.
Not If I Save You First is a great book for someone looking for something fun and quick to enjoy.
Add to Your Goodreads Shelf
Purchase on Amazon
Note: This review was originally written for my other blog, and had been written months ago. Follow my blog to see new reviews twice a week, and please be patient as I transfer over old posts to the new website!