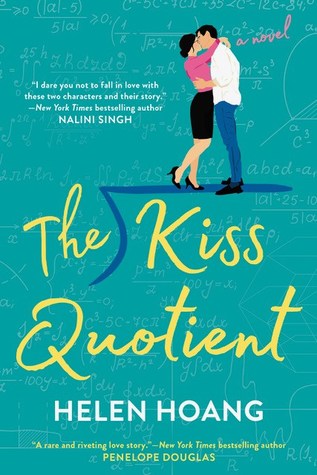 Overall: 5/5 Stars
Characters: 5/5
Setting: 5/5
Writing: 5/5
Plot and Themes: 5/5
Awesomeness Factor: 5/5
Review in a Nutshell: The Kiss Quotient is an amazingly fun read, with so many cute and funny moments, as well as fantastic representation of mental illness.
"She didn't know how to be semi-interested in something. She was either indifferent . . . or obsessed."
The Kiss Quotient follows Stella Lane, an econometrician on the autism spectrum who is determined to practice some of the more physical aspects of dating. Which is how she meets Michael, a male escort who is willing to bend some of his rules to help Stella learn.
This book is a fun, fast read. I absolutely flew through it, loving the witty dialogue and adorableness. I love how the book handles Stella's mental illness, treating it as something that is just a part of her, but also discussing the inner turmoil those who suffer from mental health issues deal with; feeling ashamed, constantly fighting it and having to plan around it. As someone who has suffered from mental health issues my whole life, I found Stella incredibly relatable. I share a lot of symptoms with her and it was amazing for me to see her deal with problems I've been dealing with my whole life.
The characters in this book are great. As I mentioned above, I loved Stella's character so much. Michael was just as great. I kept turning pages hoping to learn more about him and his backstory, and I absolutely adored his family and their relationships. Also, the main relationship was just too precious. They were so perfect together and I really loved the respect between them (this book does a fantastic job of handling the subject of consent).
Pros- Adorable and sexy romance, handles the subject of mental illness beautifully, funny writing style
Cons- The main thing keeping the couple "apart" can get a little annoying
Overall- 5/5 stars.
The Kiss Quotient is hilarious, cute, sexy and thought-provoking. This perfect summer read is impossible to put down.