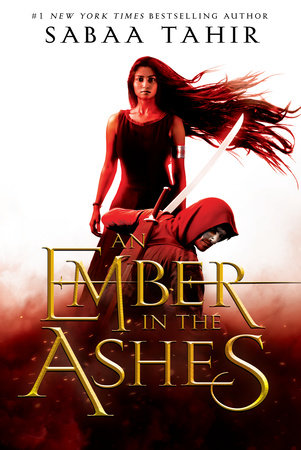 //trigger warning: mentions of sexual assault and rape//
Overall: 5/5 Stars
Characters: 5/5
Setting: 5/5
Writing: 5/5
Plot and Themes: 5/5
Awesomeness Factor: 5/5
Review in a Nutshell: An Ember in the Ashes will astound you with its amazing worldbuilding, lovable yet flawed characters, and gorgeous writing. This is not a book to skip.
"Fear is only your enemy if you allow it to be."
An Ember in the Ashes follows two characters in very different circumstances. Laia, desperate to save her brother, has become a spy for the rebels, taking on the dangerous job of getting information by being the slave to the ruthless Commandant. Elias is a soldier, and a great one, but all he wants is freedom. When he is forced to partake in a competition to become the next Emporer, he must decide what he is willing to do to be free.
The world in this book is brutal. The Ancient Rome inspiration is clear, but the world still feels original. I really appreciated how Sabaa Tahir doesn't shy away from the harsh realities, and the constant danger that certain characters are forced to live in. There are a lot of mentions of sexual assault, violence, and death (God, a lot of death). Much of the world isn't explored in this book, leaving a lot for the sequels to dive into, and also making the world building not overwhelming like it can get in many fantasy novels. However, the plot does feel a little slow at the start as you jump into the Empire. Tahir's elegant and descriptive writing style also helps establish the fascinating setting and keep the pace moving. There are so many beautiful quotes I can pull from this book. The writing is just fantastic.
The characters in this book all are distinct and memorable, and you truly do feel for them and relate. This is definitely a book where each character death hurt me. And Sabaa Tahir does not pull any punches, she shows no mercy to your favorite characters. My only complaint with the characters would be the love rectangle. I adore most of the relationships in this book, they are so precious, but that love rectangle still frustrates me today, 3 years later.
Pros- Beautiful writing, amazing worldbuilding, fascinating plot
Cons- Annoying love rectangle, kinda slow start
Overall- 5/5 stars.
An Ember in the Ashes is an absolutely breathtaking debut that will completely blow you away.